Love and Rockets: New Stories #1
By Leroy Douresseaux
October 13, 2008 - 08:35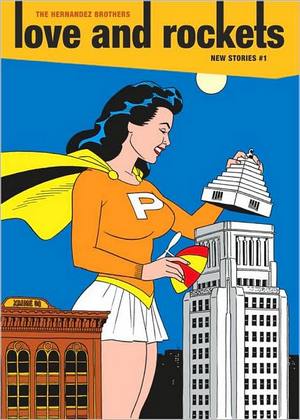 Love and Rockets: New Stories #1 cover by Jaime Hernandez.
Along with Howard Chaykin's American Flagg, Love and Rockets was the most influential comic book to come out of independent comic book publishing in the early 1980s. The magazine-sized comic book, featuring the work of brothers Gilbert, Jaime, and (sometimes) Mario Hernandez, ran for 50 issues, ceasing publication in 1996. The title returned as Love and Rockets, Volume II in 2001, running for 20 issues until 2007.
Love and Rockets: New Stories #1 is the third incarnation of Love and Rockets, the best American comic book ever, rebooting this phenomenal comic as an annual graphic novel length package. Why do this? The publisher, Fantagraphics Books, has been gearing their business towards book and graphic novel publishing since the 1990s, and like Fantagraphics acclaimed anthology, Mome, this book/literary magazine format is designed for bookstore shelves and sales. Other than the format change, everything is the same; cartoonist brothers Gilbert Hernandez and Jaime Hernandez will continue to create their unique comics visions, with brother Mario Hernandez collaborating with Gilbert as a writer on a story or two.
Jaime launches Love and Rockets: New Stories with a super-hero yarn. A serialized graphic novel, Ti-Girls Adventures Number 34 doesn't focus on signature Jaime character, Maggie, but on Maggie's neighbor, Angel, and Maggie's longtime friend, the celebrated Penny Century. Penny has finally realized her longtime dream of acquiring superpowers, but at a terrible personal cost. As Penny rampages through the galaxy, half mad with grief, a motley and varied group of eccentric female superheroes plot to stop her. Angel, herself a superhero, acts as the narrative's center, with supporting characters: the screwy Russian badass babe, Alarma Kraktovilova (another neighbor of Maggie's), Golden Girl, and Espectra. The latter two were members of the Ti-Girls, a 1960s and 70s superhero group formed by women who were rejected from other teams.
The epic-length 50-page Ti-Girls Adventures Number 34 (apparently the first half of this story) recalls Jaime's early work, as seen in the original Love and Rockets. Those comix were a combination of screwball, B-movie science fiction and two-fisted Jack Kirby-style superhero action with a side of comedy. The difference here is that the potential Jaime showed then as an illustrator has been met, surpassed, and then some. This graphic novel does drag a little, but Jaime's ability to mix genuine human emotion with kooky fantasy, both in his razor-sharp dialogue and supreme black and white drawings, surpasses any lapses in pace. The subtle shifts in Espectra's facial expressions and her body language are like a tapestry revealing the mental and spiritual state of late middle-aged woman who has seen better days. Jaime's achievement in Espectra is the way he can also show how steady and resolute she is in a very crazy world. She's still a hero even if her life has seen better days.
Gilbert Hernandez is creative and prolific, and sometimes explodes on comic book fans with a flurry of releases across multiple publishers over the period of a year or so. Here, he also returns, in a sense, to his early work. Gilbert has always tackled deeper spiritual, philosophical, and societal issues in his work, but the seven stand-alone stories here recapture the rawness or perhaps a sense of newness of the first few years of his Love and Rockets work. Like the old, this new material is a mixture of B-movie sci-fi comedy, stoicism, surrealism, and social farce.
"Papa" is a turn-of-the-century story involving a traveling businessman (which reads like Cormac McCarthy). "The New Adventures of Duke and Sammy" features a pair of stage comics who are a cheap copy of Dean Martin and Jerry Lewis in a story that's like one of those corny Three Stooges sci-fi/fantasy movies. Of all these stories, the best is "Chiro El Indio," written by Mario. It deals with a lowdown attempt to steal some valuable land belonging to a crazy Indian couple. "Chiro" reads like it could be turned into one of those great Latin American movies that foreign film fans and Oscar love so much (Y Tu Mama Tambien).
This isn't stellar work by the Hernandez Brothers, considering the chunky body of stellar work that they've produced over a quarter century. What is good about Love and Rockets: New Stories, however, is that it throws readers and fans a curve. Just what are Los Bros. going to do now? By going back to their early styles, in essence, they've allowed themselves a re-launch or at least a chance to throw many surprises at our expectations. Whatever they choose to do, it'll still be the most interesting comics coming from America's most literate, experimental, and adventurous comic book creators.
A-
Last Updated: May 19, 2020 - 12:25