Love and Rockets to Restart in Annual Book Format in 2008
By The Editor
November 16, 2007 - 16:00
A Gilbert page from an upcoming story.
LOVE AND ROCKETS MOVES TO ANNUAL, BOOK-SIZE FORMAT IN 2008
After 25 years of being published in a traditional saddle-stitched magazine format released three or more times a year – first in the magazine-sized VOLUME I (50 issues, 1982-1996) and then in the comic book sized VOLUME II (20 issues, 2000-2007) – the award-winning Love and Rockets comic book series will go on hiatus effective immediately and return next summer in its third incarnation, as a series of all-original, graphic novel-length releases.
Each annual volume will comprise at least 100 pages of all-new comics, split evenly between its creators, Gilbert, Jaime (and sometimes Mario) Hernandez. (The 21st issue of Volume 2, announced in #20, will now become part of Vol. III #1.)
"This new format will allow the Bros. to present longer stories without having to chop them down into bite-size pieces," said Fantagraphics publisher Gary Groth. "In today's graphic novel-oriented world, readers (and cartoonists) are increasingly impatient with this sort of serialization, especially in the case of L&R where, because of the split nature of the book, each artist has only 15 pages."
"This is a pretty exciting prospect, creative-wise," Gilbert Hernandez agrees. "I've enjoyed working in the New Tales of Palomar format [Gilbert's three-issue solo series published under the Ignatz imprint from Fantagraphics], where I don't have to worry about editing 24 page stories to 14 or 12 pages any more. I've got 50 pages to go wild with in Vol. III, #1. Later I might do a whole 50 page story in one issue, and return some of the Palomar characters in long single pieces. I planned to stop with the Palomar characters, but only because of the serializing problem; now it's a different game. I am very, very inspired here!"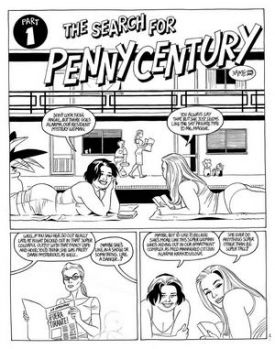 A Jaime page from an upcoming story.
Aside from the creative advantages of the new format, 2007's highly successful repackaging of Love and Rockets Volume I into seven smaller, thicker books (the seventh, Amor Y Cohetes, will be released in June 2008) revealed a large untapped audience for Love and Rockets that was not being reached with the comic books, which were exclusively available in the direct sales market. "We wanted to be able to reach those readers who aren't near a comics shop with, specifically, the new LR material," says Fantagraphics sales director Greg Zura -- "and we wanted it to be available through Amazon.com and similar on-line book-selling services. Moving to a 'spine' format gives us this option."
"We discovered with The ACME Novelty Library that opening up the periodical to the book trade doesn't inhibit sales in the direct market," said Fantagraphics Director of Publicity Eric Reynolds. "If anything, it breaks the audience wide open."
This does not mean that each volume is entirely self-contained; for instance, Jaime's first big story will actually be a two-parter extending across the first two issues of L&R Volume III. "I'm really excited about this format," says Jaime Hernandez. "It works perfectly with the current story I'm working on. I was afraid the story's length would turn some readers off running for six chapters in the old format."
Last Updated: May 19, 2020 - 12:25