Toys / Comics to Toys / DCDirect
Justice League International Black Canary
By Hervé St-Louis
March 1, 2009 - 09:59
Someone, in the early 1980s, decided that Black Canary's iconic leather and fishnet stockings' look had to go. This being the 1980s, she was given one of those Flashdance type of costume that all super heroines wore at the time. They covered her up so much that there was no point calling her the blonde bombshell anymore. Then, she joined the Justice League International, as the only founding female member where she was pitted constantly against the prying Guy Gardner and developed a budding friendship with Blue Beetle. Artist Kevin Maguire possibly made this iconic 1980s design work best.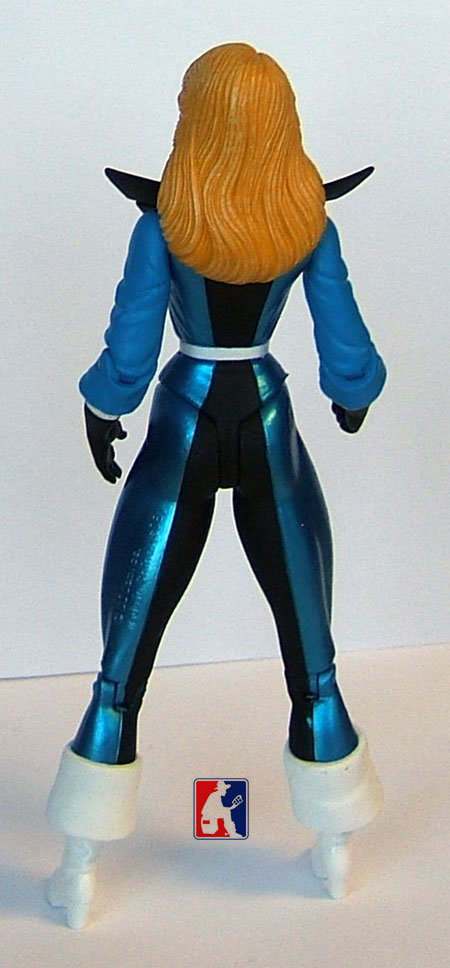 I find it amazing that an action figure of a version of a character's costume many people dislike was approved. Here, Tim Bruckner used one of his classic facial sculpt instead of giving Black Canary a soft round face, like Maguire used to draw her. It's not that I don't like her face. But this is not based on Maguire's work. However, the proportions of the costume's details, like the buccaneer's boots and puffy sleeves are right.
Of course, with high heels, it's almost impossible to have Black Canary stand on her own without her action figure stand. Other problems include the weak knee articulation. I almost broke the joints while trying to bend the knees. That means that there will be no posing of this action figure. The shoulder joints are more flexible than the JLI Batman's. Her wrists also rotate. Of course her thick rubber hair come in the way of her neck articulation, but at least, being in rubber, it offers more flexibility than hard plastics.
The paint job on her face is great. The blush on her cheeks is barely noticeable. One issue I have is that her collar and sleeves are not graced with the same metallic blue paint that covers her torso and leggings.
This is not a bad action figure at all and perhaps more than hardcore Justice League International collectors may be interested in this. Fans of Black Canary, and they are many won't be disappointed to add yet another Black Canary action figure to their collections. She's worth it.
Rating: 9 /10
Last Updated: August 31, 2023 - 08:12