Comics / Comic Reviews / DC Comics
Green Arrow and Black Canary #15
By Hervé St-Louis
January 4, 2009 - 22:14
Green Arrow has less than two seconds to save his wife, fellow heroine Black Canary from the blade of a mad man. As Green Arrow studies his options, a flashback of his entire life, and how few seconds changed everything for him several times reappears in his mind. Will he be able to shoot the arrow in time?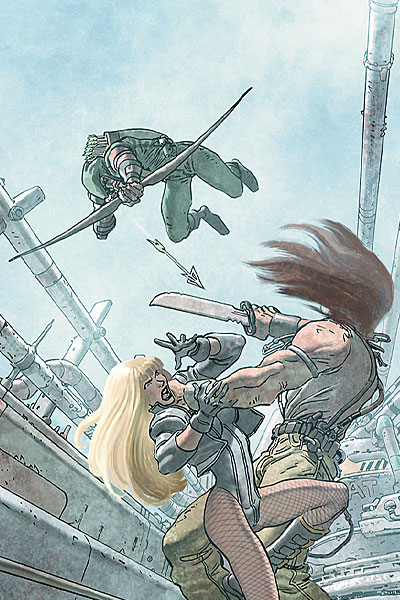 It's a new storyline and a new creative team for Green Arrow and Black Canary. This issue helps Kreisberg set the tone of the stories he wants to tell and shows his grasp of the characters he's working on. Although the set up is that of a damsel in distress, with Black Canary held hostage by a common thug she should be able to subdue if she really tried, Kreisberg allowed the heroine to save herself, thanks to Green Arrow's help. It's a fine game of balance as it would be detrimental to both characters if one was clearly more skilled than the other. In his run Judd Winick made Black Canary the better at everything and only brought Green Arrow as character relief and motivation. Kreisberg doesn't do that, just yet. It's a good move. My one complaint is the set up for the future opponent of the couple. It's not quite clear what happened.
Norton is not a bad artist, but his work is not memorable either. It's solid and well crafted but without the extra oomph that creates a star artist. I think his greater weakness was having Rubinstein ink his work. While I'm glad to see old pros get work, his inking totally overpowers Norton's work.
Rating: 7 /10
Last Updated: January 24, 2022 - 11:00