Comics / Comic Reviews / DC Comics
Green Arrow & Black Canary #20
By Hervé St-Louis
May 26, 2009 - 21:51
Black Canary and Green Arrow are in marriage counselling to try to fix their marital issues. But the one person in the couple that seemed to need the counsel the most is not the one that think it has a problem. Is Green Arrow but the punching bag of Black Canary? Will the therapist accept to help her patients when they clearly can lead to trouble right in front of her office? Worse, will Green Arrow and Black Canary figure out why all the sounds in the city have disappeared?

It's fun that Black Canary seem to have more problems to fix than Green Arrow. But isn't that a cliché plot that has been pulled a few times in Desperate Housewives? It's the wife who wants her husband to go through therapy that is the cause of most of the problems in the couple? The story has its fun moments, but the way Black Canary is so angry becomes a caricature and threatens to make the reader find the whole sequence ludicrous. It's a bad case of over acting inside a comic book. A more subtle approach would have been just as efficient without having to shout at the reader that its the wife that has a problem.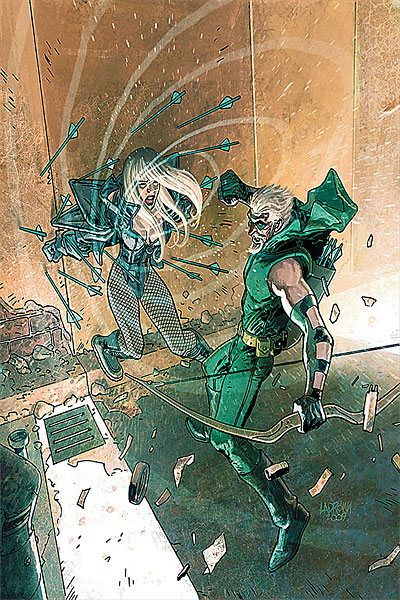 Norton is a good artist that delivers. But my problem with his rendition is that there's nothing that grabs the reader and takes it to another level. He is not a bad artist at all. His work is professionally rendered but he doesn't try to break any mould. DC Comics seems happy to hire a lot of artists of this caliber for its series. On one hand this is a good thing because artists like Norton and Rubinstein do their work proficiently. But on the other hand, this work does not elevate the comic book into anything more. In these times of shrinking audiences and economic downturns, I'd like to see artists like Norton and Rubinstein put more efforts to grab readers' attention.
Rating: 7 /10
Last Updated: January 24, 2022 - 11:00