I•O•N by Arina Tanemura
By Leroy Douresseaux
Apr 1, 2008 - 10:57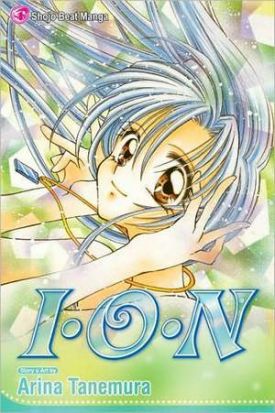 Thanks to barnesandnoble.com for the image.
Whenever high school student Ion Tsuburagi chants her name like this, I•O•N, it acts like a good luck charm. Chance brings her into the acquaintance of Mikado Horai, the president of their high school's Psychic Powers Research Society. Mikado is working on a strange new substance that may help people develop their psychic powers. After touching the substance, Ion discovers that chanting her name now gives her telekinetic powers. Ion is in love with Mikado, but after her powers bloom, will he only see her as psychic and not as girl?
THE LOWDOWN: From the creator of The Gentlemen's Alliance †, Arina Tanemura, I•O•N is a 'tween romance comic. The sci-fi/fantasy elements, the psychic powers and telekinesis, are unobtrusive. This is about a girl pining away for a boy who is hesitant and unsure about revealing his "true feelings" for a girl to whom he has a close friendship. Is it love? He's scared of answering that question, and when he hesitates, that only makes her much neurotic. I•O•N also demonstrates Arina Tanemura's trademark decorative and textured floral-infused art.
POSSIBLE AUDIENCE: Like most titles in VIZ Media's "Shojo Beat" line of manga, I•O•N is aimed at teen girls, but this kind of romance will appeal mainly to younger teen girls.
B
Last Updated: Jun 26, 2018 - 9:28