Comics / Manga / Yaoi Manga
Toko Kawai's In the Walnut: Volume 1 (Yaoi)
By Leroy Douresseaux
April 5, 2010 - 16:18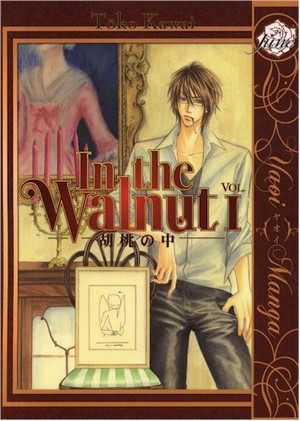 In the Walnut Volume 1 cover image is courtesy of Anime Castle Books.
Drama/Romance; Rated: "16+ Young Adult"
In the Walnut is an art gallery where restoring and selling art is the specialty. Well, the specialty is really doing everything under mysterious and suspicious circumstances. The scruffy rogue, Hideo Tanizaki, runs the gallery, which he inherited from his grandfather. Sohei Nakai, Tanizaki's lover, partner, and all-around pest, is an aspiring filmmaker who has made Tanizaki his life's work. Tanizaki is a talented painter with an encyclopedic knowledge of art history, technique, and science, and he is also a forger supreme.
In the Walnut, Vol. 1 features three stories that present great tests of Tanizaki's skill. First, a new customer shows up at the gallery asking Tanizaki to clean the paint off a valuable canvas so that the customer can see what is beneath it. Tanizaki knows that the painting is stolen, and his curiosity will uncover the tragic story of a talented, but lonely painter. Next, Tanizaki uses his wiles and skills to help a boy with a love of the work of artist Paul Klee, but can Tanizaki help the boy's ailing sister? Finally, an old rival of Tanizaki's grandfather makes a bid to ruin Tanizaki. The young gallery owner can foil the plot, but it means engaging in a criminal enterprise. Nakai wants to help, but should Tanizaki let Nakai help commit a crime – even if Nakai is doing out of love?
THE LOWDOWN: Yes, In the Walnut is a yaoi manga. It does depict explicit sex between male lovers. Tanizaki and Nakai come across as a playful couple in bed, but their sex life doesn't dominate this lively romantic comedy/drama series. In the Walnut is a wonderful character drama with well-drawn and, for the most part, complicated characters – both leads and guests.
Another good thing about this manga is that it is a hybrid of the detective fiction genre, also being part mystery and part caper, with Tanizaki often acting like a troubleshooter or Mr. Fix-it. Creator Tōko Kawai uses the personalities of the characters to drive the story to its conclusion, with each character's strengths and flaws, especially Tanizaki's, not only deciding the outcome, but determining how the game is played out.
In the Walnut is not short on romance. This volume concludes with three short stories that act as either extras or back stories. These stories are the ones that actually make sense of Tanizaki and Nakai's romance, because in the main stories their relationship seems more like a friendship full of teasing and banter without much actual dating. In fact, the first extra story, "My Beautiful World," is one of the better love stories I've read in the last year or so.
POSSIBLE AUDIENCE: Yaoi readers looking for romance, comedy, drama, and a little intrigue will find it all In the Walnut.
A
Last Updated: August 31, 2023 - 08:12