Comics / Manga / Yaoi Manga
Toko Kawai's Loveholic 2 (Boys' Love)
By Leroy Douresseaux
Feb 1, 2009 - 7:04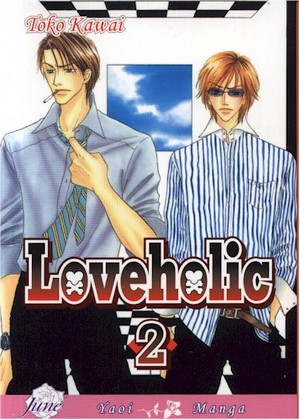 Loveholic 2 cover is courtesy of Anime Castle Books.
Rated "YA" for "Young Adults 16+"
Kentaro Nishioka is a young photographer for NK.Field, and he is a rising star as his work becomes more popular with advertising companies. Daisuke Matsukawa is an agency man; working for Hakuoudo, he is sought after for his work in conceptualizing print advertising campaigns. Nishioka and Matsukawa's work brings them together, and they begin a romantic relationship.
In Loveholic, Vol. 2, business pressures and time demands seem to be on the verge of smothering Nishioka and Matsukawa's budding love. Matsukawa suddenly competes with Nishioka for a lucrative job, while the young photographer struggles to find a balance between his creative voice and amending his style to fit his clients' tastes. Suddenly, the mix of business and pleasure is proving toxic to Nishioka and Matsukawa's relationship. Can they find the balance they need to solidify their relationship and turn bedroom passion into real love?
THE LOWDOWN: As love stories go, Loveholic is as much about learning to manage professional relationships as it is about getting along in the bedroom. Nishioka and Matsukawa are playful lovers, with the latter constantly teasing his lover. However, manga-ka Toko Kawai uses the work place as the vehicle by which to introduce conflict into the relationship. She creates drama by injecting career struggles and professional rivalries into the dynamic of two rising stars who work together (sometimes competing professionally) and love together.
It makes for entertaining reading, and there is a fair amount of passion in this Boys' Love title that is aimed at the older teen, Young Adult reader; Kawai is not shy about the fact that her leads are young men in their sexual prime. She also uses an impressive range of facial expressions with her malleable style for cartooning the human face to create, with variety and subtlety, a wide range of emotions.
POSSIBLE AUDIENCE: Yaoi readers who enjoy workplace dramas will enjoy Loveholic.
B
www.digitalmanga.com
www.emanga.com
Shop for Yaoi Delights.

Last Updated: Jun 26, 2018 - 9:28