Comics / Manga / Yaoi Manga
Toko Kawai's Just Around the Corner (Yaoi)
By Leroy Douresseaux
Nov 25, 2008 - 11:04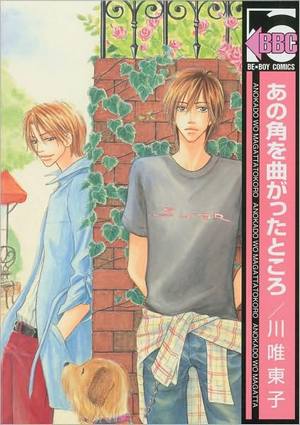 The above is the cover image for the Japanese original. June's edition will keep the illustration, but change the cover copy.
"18+ Mature Content"
27-year-old Kazuaki Kiriya is reeling from a break-up with his ex-lover (a married man), and is contemplating suicide. 17-year-old Yuuya Kishimoto has received news that his career as a pianist is over almost before it began because of injuries to one of his hands. Kiriya and Yuuya bump into each other, setting off sparks and beginning a passionate affair. Kiriya, however, only wants a physical relationship with Yuuya, whom Kiriya considers to be an exceptional lover. Kiriya thinks Yuuya is too young and immature to commit to a serious romantic relationship, but Yuuya thinks otherwise.
When Yuuya discovers that Kiriya is working at his high school as a teacher, he's elated, but Kiriya is distant and won't even make eye contact with his teen lover. Is their love really more than just shared unhappiness, or can they both heal each other's wounds and become real lovers?
Just Around the Corner, a yaoi manga by Toko Kawai, has the sex scenes one would expect in the boys' love sub-genre, yaoi, but this title is more about romantic drama than it is about sex. The sex might good, but Toko puts her characters through an obstacle course of discovery, in which her characters must investigate each other's personality as much as each other's body.
This story is a character drama, and Toko presents a meaningful relationship as one that comes about through struggle and fits and starts. Just Around the Corner isn't a downer; there's also a lot of humor and comedy of misunderstanding in the scenes set at the high school. Overall, Just Around the Corner is a nice mix of romantic drama and comedy with strong characters, and Toko's pretty figure drawing makes the whole package an enjoyable read.
B+
Last Updated: Jun 26, 2018 - 9:28