Comics / Manga / Yaoi Manga
Toko Kawai's Cut (Yaoi)
By Leroy Douresseaux
Apr 7, 2009 - 6:57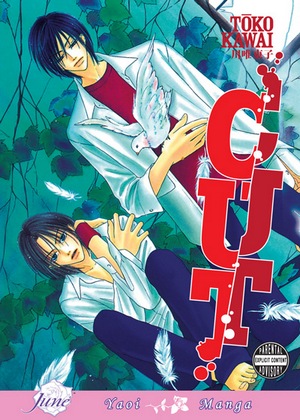 Cut cover image
Drama/Romance; Rated "M" for "Mature Audiences 18+"
In Cut, a yaoi manga from Tōko Kawai (Loveholic), two troubled students, one a high school senior with a dark secret and the other a social misfit, clumsily form a bond that may help them to break with the past or may shatter their futures.
High school senior Chiaki Sakaguchi seems like a popular guy, but his genial smile and amiable ways hide a terrible and dark family secret. Eiji Yukimura lives with his aunt and uncle, but he often chooses to sleep in the city park. Eiji doesn't fit in with the other students, and his days are troubled by horrible visions from his past. A chance encounter introduces the two students to one another. Chiaki goes out of his way to befriend Eiji, who, at first, resists; then, he seemingly, reluctantly gives in to Chiaki's courting. They may heal each other, if the damage that has been done to them isn't beyond even the healing power of love.
Cut has so many shocking revelations, each one essential to the story, that I have to be careful in my review not to reveal too much and spoil this yaoi manga for interested readers. I will say that trendy topic, "cutting," comes into play. I'll also reveal that this isn't so much a romantic drama as it is a relationship drama. What's the difference? The bonding of these two troubled characters only involves a little romantic love. Their coming together is like one of those uplifting stories in which characters unite and through trials and tribulations seek to find happiness and healing. Being together seems to change the way each one thinks, which in turn presents each young man with a different way of living and a different way of living with himself.
Creator Tōko Kawai doesn't provide easy answers, and with her evocative art, in which she emphasizes emotion in body language, facial expressions, and even in practically every facet of her composition, readers can experience this journey of two troubled boys in a way that connects them to the characters. Sometimes, Cut's sexiness and passion are too emotionally raw, and the depictions of sex can be too dark, but readers will enjoy the honest drama here.
B+
www.digitalmanga.com
www.akadot.com
Shop for Yaoi Delights.
Last Updated: Jun 26, 2018 - 9:28