Hikaru No Go: Volume 12
By Leroy Douresseaux
May 6, 2008 - 11:31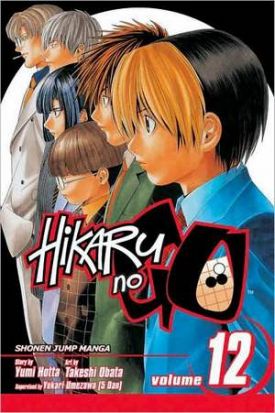 Thanks to barnesandnoble.com for the image.
Rated "A" for "All Ages"

Hirakru No Go, a shounen manga (boys' comics) by writer Yumi Hotta and artist Takeshi Obata, is set in the world of the board game " go," which originated in China. The series star is teen Hikaru Shindo who discovered an old go board with a spirit named Fujiwara-no-Sai attached to it. Sai was a genius go player from Japan's Heian era (794 A.D. to 1185 A.D.), and when Hikaru touched the board, Sai entered his consciousness. Sai awakened Hikaru's untapped genius for the game of go, and soon Hikaru is chasing his dream of being a pro.
In Hikaru No Go, Vol. 12, Hikaru begins his career as a professional go player. However, his first game is a match against the master pro, Koyo Toya Meijin, the father of Hikaru's rival, Akira Toya. Sai insists that Hikaru allow him to guide the teen through the game, but will Hikaru give into his ghostly master. Later, Hikaru attends an amateur go festival, where Sai decides to teach a cheating merchant and his professional go partner a lesson.
THE LOWDOWN: There is something oddly comforting about following a protagonist who has his own secret ghostly presence attached to him. Only Hikaru can see and hear Sai, but together they are a wonderful duo. Their bickering, strategizing, and tag-teaming are engaging and fun. Their hidden partnership not only makes the reader feel as if he is in on the secret, but also makes him feel like part of the friendship.
Also, if an American creator produced a comic build around a board game, he'd fill it with jargon, arcane rules, technical bits, etc. With this manga geared towards young readers, the creators emphasize the conflict between the characters and the drama, using the intrigue of the game as a backdrop to people and narrative. I don't know a thing about go, but I like this comic.
POSSIBLE AUDIENCE: Rated as an "all ages" title, this gentle and humorous tale should appeal to any child old enough to read and comprehend a narrative.
A-
Last Updated: September 6, 2021 - 08:15