Hikaru No Go: Volume 21
By Leroy Douresseaux
October 30, 2010 - 10:27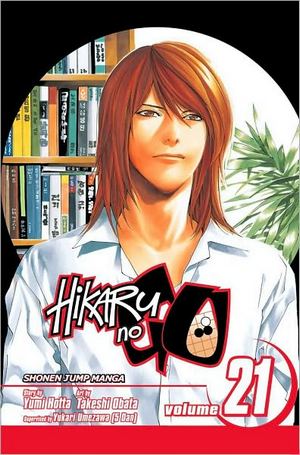 Hikaru No Go Volume 21 cover image is courtesy of barnesandnoble.com.
Rated "A" for "All Ages"
Hikaru Shindo found a haunted "go" board in his grandfather's attic. The spirit of Fujiwara-no-Sai, a master go player who lived sometime during Japan's Heian era (794 A.D. to 1185 A.D.), was attached to the board. ["Go" is a board game that originated in China.] When Hikaru touched the board, Sai took up residence in his consciousness and awakened the boy's untapped genius for the game of go. Soon, Hikaru was chasing his dream of becoming a professional go player.
In Hikaru No Go, Vol. 21 (entitled Great Expectations), Hikaru and his rival, go prodigy Akira Toya, are part of a four-man team representing Japan in the Hokuto Cup. This is a tournament for young players from Japan, China, and Korea, and Hikaru is ready to take on a Korean player who disparages Japanese go tradition. Meanwhile, Akira's father, Toya Meijin, makes surprising moves during his retirement, which was also something of a shocker.
THE LOWDOWN: Readers don't have to understand the game of "go" to enjoy Hikaru No Go, although having an understanding of the game might make this manga even more enjoyable. The series' universal elements are competition and teamwork, but readers will recognize sub-plots about parental approval and friendship. That is why readers of any age will find something to like about this fun character drama and sports manga.
POSSIBLE AUDIENCE: Part of the "Shonen Jump" line, Hikaru No Go is indeed an excellent read for all ages – young, old, and in between.
A-
Last Updated: August 31, 2023 - 08:12