Hikaru No Go: Volume 16
By Leroy Douresseaux
July 29, 2009 - 10:44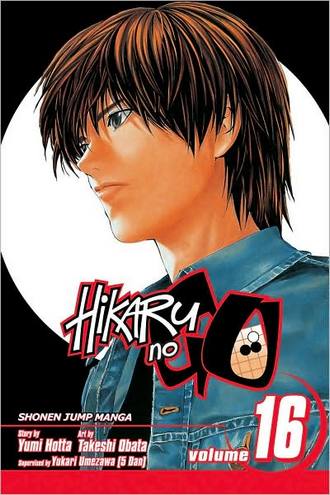 Hikaru No Go Volume 16 cover image is courtesy of barnesandnoble.com.
Rated "A" for "All Ages"
After teen Hikaru Shindo finds a haunted "go" board, he also discovers that a spirit named Fujiwara-no-Sai is attached to the board. Sai, who lived sometime during Japan's Heian era (794 A.D. to 1185 A.D.), was a master of "go," the board game that originated in China. Sai takes up residence in Hikaru's consciousness and awakens the boy's untapped genius for the game of go, and soon Hikaru is chasing his dream of being a professional go player.
As Hikaru No Go, Vol. 16 (entitled Chinese Go Association) opens, Hikaru's friends and associations continue to reel from the news that he is forfeiting matches. What they don't know is that since Sai disappeared, Hikaru has given up go. Meanwhile, Shinichiro Isumi, who is in China for some goodwill go games, decides to stay in the country for a few months in order to sharpen his go skills against Chinese teen prodigies. When Isumi returns to Japan, his first stop is Hikaru's house!
THE LOWDOWN: Knowing nothing about go has not hampered my enjoyment of this engaging series. In terms of content, Hikaru No Go is appropriate for any reader of any age who can read and comprehend the series' basic plot. However, writer Yumi Hotta and artist Takeshi Obata are respectful of their audience's intelligence and show it by fashioning a drama that is intelligent and is peopled by wonderful, complicated characters.
POSSIBLE AUDIENCE: Part of the "Shonen Jump" line, Hikaru No Go is indeed an excellent read for all ages.
A
Last Updated: September 6, 2021 - 08:15