Hikaru No Go: Volume 23
By Leroy Douresseaux
April 25, 2011 - 14:53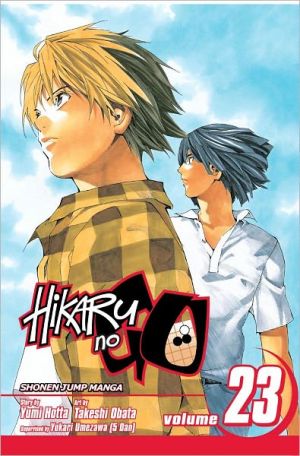 Hikaru No Go Volume 23 cover image is courtesy of barnesandnoble.com.
Rated "A" for "All Ages"
Hikaru Shindo found a haunted "go" board in his grandfather's attic. ["Go" is a board game that originated in China.] The spirit of Fujiwara-no-Sai, a master go player who lived sometime during Japan's Heian era (794 A.D. to 1185 A.D.), was attached to the board. When Hikaru touched the go board, Sai took up residence in his consciousness and awakened Hikaru's untapped genius for go. Soon, Hikaru is chasing his dream of becoming a professional go player.
Hikaru No Go, Vol. 23 (entitled End Game) is the final volume of the series. It's the final stage of the inaugural Hokuto Cup, an international tournament for go pros, 18 and under. Players from Japan, China, and Korea are the competitors. In a controversial move, Hikaru is placed in first position to face Korea's top player, Ko Yong Ha. For Hikaru, however, this match is about more than just personal glory, as he looks to the future of go.
THE LOWDOWN: I didn't have to understand the game of "go" to enjoy Hikaru No Go, although if I had an understanding of the game, I might have found this manga even more enjoyable than I do. I think readers can enjoy this series without knowing go because its universal story elements of competition and teamwork are familiar, and readers will recognize the frequently used sub-plots about parental approval and friendship.
However, I think readers can love how this manga appreciates of go. Hikaru No Go's final volume ends with two bonus stories. One is an ode to that early rivalry that would become a friendship and passionate, friendly rivalry: Hikaru Shindo and Akira Toya. The second is a love letter to the kids coming into the game just after Shindo and Toya. These elegant vignettes make such a strong argument for go that they also made me sad to see this series end.
POSSIBLE AUDIENCE: Part of the "Shonen Jump" line, Hikaru No Go is indeed an excellent read for all ages: young, old, and in between.
A-
Last Updated: August 31, 2023 - 08:12