Toys / Comics to Toys / DCDirect
Firestorm
By Hervé St.Louis
December 8, 2004 - 10:19
Fan-based demands for a Firestorm action figure have been crucial in the delivery of DC Direct's first six-inch figure of the character. There was a recent Pocket Hero Firestorm and a Super Power Firestorm figures in the 1980s by Kenner. Firestorm is a very popular character that, pardon the pun, flames up his fans on every occasion. Even the new series by DC Comics with a new guy is firing up the troops.
Likeness
This is the classic Firestorm as Bronze Age comic book fans know him. He has puffy sleeves, a hot head and that those funny circles that symbolize little atoms twirling around a fireball. Fortunately, fans got this character and not the elemental version during the late 1980s after the Crisis. There are however a few differences. There is an extra atom on Firestorm's left shoulder and no white vertical stripes on his shorts.
Sculpt
The sculpt is near-perfect. There lacks the above-mentioned stripes on his shorts and a few more in his face masks around his forehead. Nevertheless, it's easy to pose the figure as if he were about to transform an object into another one. His pose is brash and decided, just like in the comic book. He looks ready to take action or make an impulsive decision.
Paint
The paint job is simple yet effective. It's also dead right perfect. Of note, Firestorm's eyes have silver coloured paint instead of white. It's a minor detail, since silver is almost impossible to depict properly in comics. The traditional white would have sufficed.
Scale
There's lots of criticisms about this figure's height. He's taller than all of the first wave of DCDirect Justice League figures from 2003 and all Silver Age characters produced before. Firestorm fits nicely with all recent Justice League figures, but less so with characters like the Silver Age Flash, the Silver Age Hawkman, or the Silver Age Batman. However, next to guys like Red Tornado and the Martian Manhunter, it works.
Stability
This figure is stable, whether one uses the JLA action figure stand that comes with the package. The figure is top heavy, but its entire weight is well distributed on both legs. His knees look strong enough to carry him. Putting his two arms forwards won't affect stability.
Articulation
Firestorm has nine articulations at the neck, the shoulders, the elbows, the hips and the knees. Wrists' articulations would have been nice, but the sculpt is posed correctly, so Firestorm can still shoot some beams. His neck articulation is ball-jointed. It's great for flying poses. His shoulders have limited ball-joints that loosen the more you work them.
Plastic
DC Direct has returned to the good old solid plastic of old that use to distinguish its figures. The only difference is that the classic stench is gone. This is great news. DC Direct should continue using this type of plastic for all its action figures. It is solid and resistant. Firestorm's head top is in translucent rubber. It catches dust easily and I worry about its durability. Yet, it looks good on the character.
Props
Besides the standard JLA action figure stand there are no props. A clear plastic head of Dr Martin would have been cool.
Packaging
DC Direct has brought back the big bubble packaging. Too bad. The one used on the Contemporary Teen Titans is leaner and better for the environment. They reuse the card stock for each figure in this wave. There is a comic book illustration of the characters on the front cover. On the back, there are pictures of each figure and short bios.
Cost
The Justice League Series Two cost less than older DCDirect action figures. In 2004, the company has really controlled the price of its figures and optimized their production. DC Direct reuses the packaging for entire waves, while it focus more on distributing the figures as cases and packs instead of individually. This is better for fans. Price on this figure range from $11 to $25, depending on the stock ordered by stores.
Availability
I estimate that there are about 35,000 Justice League Series Two figures released through Diamond Comics. Divided by four, that's about 8,750 action figures per character. This is a very low quantity. Firestorm is the most popular figure of this set clearly outsells the other Leaguers. Fans of the character should not wait long before ordering. DCDirect doesn't do second runs on second tier characters often.
Update February 6 2005:
The individual version of this figure has sold out from Diamond Comics, the exclusive distributor of this action figure. It is only available from Diamond when purchased trough an inner case with the other figures of this wave.
Purchase Firestorm at The Comic Book Bin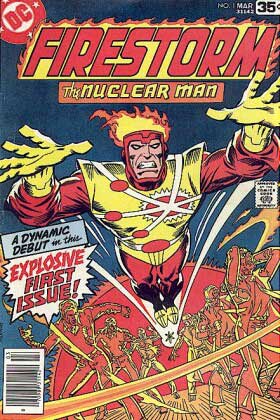 Read related reviews such as:
Hawkman and Hawkgirl
Wonder Woman
JLA Wonder Woman
JLA Flash
JLA Aquaman
The Martian Manhunter
Modern Superman
Green Lantern Kyle Rayner
Silver Age Green Lantern
Silver Age Batman
Metamorpho
Silver Age Superman and Lois
Aquaman and Aqualad Set
Silver Age Flash and Kid Flash
Green Arrow
Last Updated: January 24, 2022 - 11:00