D.Gray-man: Volume 15
By Leroy Douresseaux
December 18, 2009 - 20:36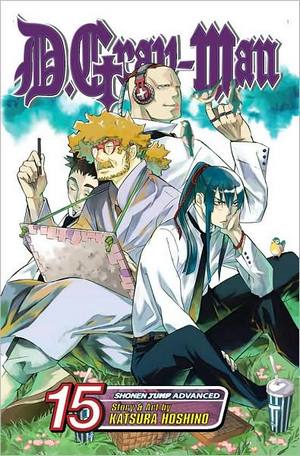 D.Gray-man Volume 15 cover image is courtesy of barnesandnoble.com.
Rated "T+" for "Older Teen"
Allen Walker lives in a world that is essentially an alternate version of our world's 19th century. The 15-year-old roams this world searching for a substance called "Innocence." As an Exorcist, Allen uses Innocence, which has bonded with his left arm to form a bladed weapon, to fight his enemies. Allen and his fellow exorcists battle the evil Millennium Earl (who resembles a caricature of a Victorian gentleman) and his minions, the demons known as "Akuma."
As D.Gray-man, Vol. 15 opens, Lulu Bell, a Noah (a group of humans who are united with the Earl), leads an army of Akuma in an invasion of the exorcists' Black Order headquarters. Their goal is to retrieve the Egg, a device that will allow the Earl to activate his new Ark. The Akuma manage to injure many exorcists and put some of them out of commission. Allen and fellow exorcist, Bookman, try to stop the Akuma from taking the Egg. Just when it seems that the two may turn the tide of battle, the Akuma unleash a monstrous new weapon.
THE LOWDOWN: Surprising for such a wildly inconsistent title, D.Gray-man can offer some truly awesome shonen action when it is at its best, which it is in this volume. Sometimes, this series reads like a great superhero comic book clash – something like the Hellfire Club vs. X-Men battle in the classic Chris Claremont/John Byrne X-Men comic books. D.Gray-man sometimes reminds me of Grant Morrison's thrill and shock-a-minute "E is for Extinction" X-Men storyline, especially this volume's Akuma invasion. In fact, I think D.Gray-man is a closet superhero comic book in manga drag, and when it is at its best, it is one of the best superhero fight comics.
POSSIBLE AUDIENCE: Fans of Bleach and Grant Morrison's New X-Men will like D.Gray-man.
A
Last Updated: August 31, 2023 - 08:12