D.Gray-man: Volume 21
By Leroy Douresseaux
November 19, 2011 - 14:18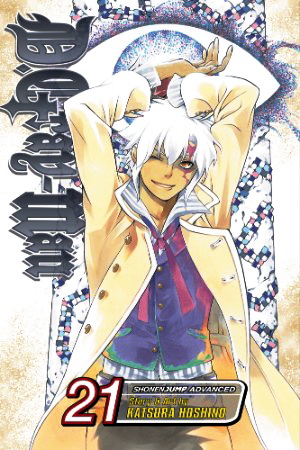 D.Gray-man Volume 21 cover image
Rated "T+" for "Older Teen"
Allen Walker lives in a 19th century that is different from the way ours was. The 15-year-old searches for a substance called "Innocence," some of which bonded with Allen's left arm to form a bladed weapon. Allen is an Exorcist, one of many fighting the evil Millennium Earl and his minions, the demons known as "Akuma." Allen is also a special Exorcist, and the Earl knows that.
As D.Gray-man, Vol. 21 (entitled The Awakening of Alma Karma) opens, a pitched battle rages at the North America Branch of the Black Order. It's the Noah versus the Exorcists. Second Exorcist Yu Kanda battles his former colleague, Alma Karma, who is now an Akuma, with Allen caught in the middle. Meanwhile the mysterious Fourteenth which sleeps inside Allen stirs, and that is what the Earl wants.
THE LOWDOWN: The 21st volume of D.Gray-man is one long battle – a conflagration of monstrous flesh and transforming bodies. I had to read it with a magnifying glass in an often vain attempt to figure out who was who and who was fighting whom. The battle between Yu Kanda and Alma Karma may be the centerpiece, but Allen's special situation is the star of the story – wish there had been more of that. This volume isn't a good jumping on point for new readers, but regular readers will like the revelations and resolutions.
POSSIBLE AUDIENCE: Readers looking for superhero action/fantasy in a manga will enjoy D.Gray-man.
B
Last Updated: February 5, 2023 - 09:06