D.Gray-Man: Volume 19
By Leroy Douresseaux
November 2, 2010 - 08:42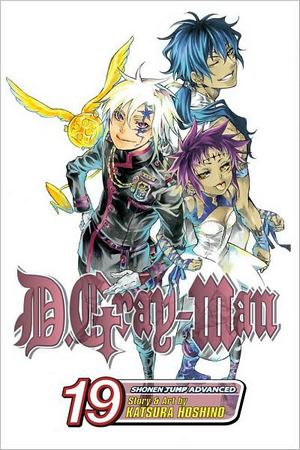 D.Gray-man: Volume 19 cover image is courtesy of barnesandnoble.com.
Rated "T+" for "Older Teen"
In a world that is essentially an alternate version of our world's 19th century, 15-year-old Allen Walker searches for a substance called "Innocence," some of which has bonded with his left arm to form a bladed weapon. Allen is an Exorcist, one of many fighting the evil Millennium Earl (who resembles a caricature of a Victorian gentleman) and his minions, the demons known as "Akuma." But Allen isn't just any Exorcist; he is quite special, and the Earl knows it.
As D.Gray-man, Vol. 19 (entitled Born of Love and Hate) opens, Allen and company battle an Akuma invasion of a Parisian orphanage. The Akuma's goal is to obtain Phantom Thief G, an orphaned boy with special powers who lives at the orphanage. What turns the tide of battle in the Exorcists favor? Who could believe that it is a new breed of Akuma? Meanwhile, the Millennium Earl calls forth his greatest fighters in order to launch the next phase of his plans.
THE LOWDOWN: I thought that D.Gray-man began with a bang, especially the first several volumes. Then, the series sort of floundered, but, once again, the chapters that make up these three most recent volumes are fantastic. Although this series is a shonen action fantasy, it really reminds me of Grant Morrison's early New X-Men stories. In simple language, when D.Gray-man is at its best, it is kick-ass. Vol. 19, with its non-stop action and series of revelations, is… well… kick-ass.
POSSIBLE AUDIENCE: Readers looking for superhero action/fantasy in a manga will enjoy D.Gray-man.
A

Last Updated: August 31, 2023 - 08:12