D.Gray-man: Volume 18
By Leroy Douresseaux
August 29, 2010 - 12:48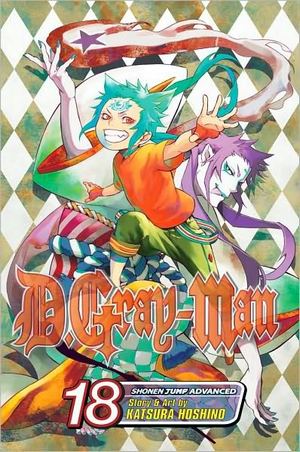 D.Gray-man Volume 18 cover image is courtesy of barnesandnoble.com.
Rated "T+" for "Older Teen"
He lives in a world that is essentially an alternate version of our world's 19th century. A 15-year-old, Allen Walker roams this world searching for a substance called "Innocence," some of which has bonded with his left arm to form a bladed weapon. Allen is an Exorcist, one of many fighting the evil Millennium Earl (who resembles a caricature of a Victorian gentleman) and his minions, the demons known as "Akuma."
As D.Gray-man, Vol. 18 (entitled Thief? Ghost? Innocence?) opens, the mysterious thief known as "G" terrorizes Paris and confounds the police. Yet the jail is full of men who are supposed to be G. Allen, Kanda, and other members of the Black Order arrive in Paris to help the local constabulary. What they discover about G will shock them (and you). The Akuma are also looking for G. And a new breed of Exorcist arrives.
THE LOWDOWN: As I've said before, D.Gray-man is such a mixed bag. Overall, it is a dark fantasy/alternate Earth manga, but it is part action-comedy with generous portions of slapstick and also part superhero-like action-adventure. It's like X-Men mixed with the late, Cartoon Network anime-manga-influenced series, Teen Titans.
Personally, I prefer the superhero, action/adventure side of D.Gray-man, which is when the series is at its most thrilling and imaginative. So I enjoyed this 18th volume, which I found to be a darn good read. For me this was like a summer potboiler, a hot read that demanded I read as fast as I could. Still, D.Gray-man has so many plotlines and characters that new readers will have a hard time following the story, but it is worth it.
POSSIBLE AUDIENCE: Readers looking for superhero action/fantasy in a manga will enjoy D.Gray-man.
A-
Last Updated: February 5, 2023 - 09:06