Detroit Metal City: Volume 1
By Leroy Douresseaux
June 4, 2009 - 09:09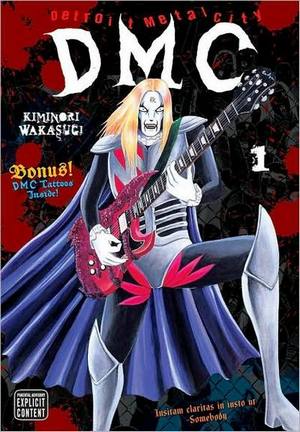 Detroit Metal City Volume 1 cover image is courtesy of barnesandnoble.com.
Rated "M" for "Mature"
Soichi Negishi is a sweet-natured, well-mannered boy. A recent college graduate, he loves Swedish pop music, shopping in trendy places, and doing whatever's fashionable, but he lives a double life. Negishi is also Lord Johannes Krauser II, the front man and guitarist for the indie death metal band, Detroit Metal City. A power trio, DMC is growing in popularity every day, but Negishi wishes he could simply play his acoustic guitar and sing happy songs. Still, there's no denying that he when it comes to being a death metal god, he's a natural.
In Detroit Metal City, Vol. 1, Negishi constantly juggles being a simple pop fan (which he likes) and being rising evilcore death metal superstar. Still a virgin at 23, he finally meets Yuri Aikawa, the girl of his dreams, but she thinks he groped her. Later, Aikawa and her friends go on a triple date with Negishi and his band mates, Masayuki Wada AKA Jagi (bassist/vocalist) and Terumichi Nishida AKA Camus (drums). Negishi thinks Jagi and Camus will ruin the date, but then, he's the one who shows his dark side.
[This volume includes an entire page of more than 10 Detroit Metal City transferable tattoos.]
THE LOWDOWN: If MTV's fondly remember Headbanger's Ball and the film This is Spinal Tap had a baby it would be this manga, Detroit Metal City. It's so over the top, and its portrayal of music fans as drones and zombies or even magpies looking for the next shiny display of faux rebellion is dead-on.
Besides that, Detroit Motor City does a number of things well. First, creator Kiminori Wakasugi makes great use of main character Soichi Negishi's split personality, which vexes him at the worst times, which in turn is great for comedy. Secondly, any series can always use a great supporting character, which DMC has in "Boss," the unnamed female head of Death Records, the company to which the band Detroit Metal City is signed. Her raunchy demeanor and masculine attitude are priceless, and the standard by which she judges quality (good things make her private parts wet) is comedy gold. Lastly, the bawdy nature of the language and storylines is refreshing, especially in a pop culture landscape of tiresome gross-out comedy.
POSSIBLE AUDIENCE: A quirky and crude manga set in the fringe of the metal scene will appeal to fans of death metal and readers who enjoy unusual manga.
A-
Last Updated: August 31, 2023 - 08:12