Detroit Metal City: Volume 5
By Leroy Douresseaux
June 8, 2010 - 19:43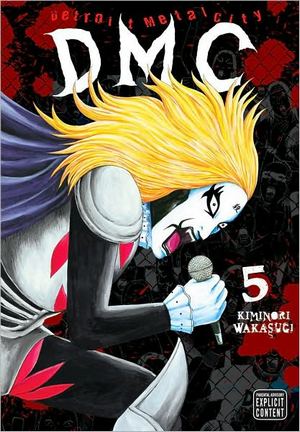 Detroit Metal City Volume 5 cover image is courtesy of barnesandnoble.com.
Rated "M" for "Mature"
Soichi Negishi may be a sweet-natured, well-mannered young man who loves Swedish pop music, shopping in trendy places, and doing whatever's fashionable, but he has a double life. Soichi is also Lord Johannes Krauser II, the front man and guitarist for the indie death metal band, Detroit Metal City. However, he wishes he could simply play his acoustic guitar and sing happy songs, although there is no denying that as a death metal god, Negishi is a natural.
Detroit Metal City, Vol. 5 begins with a shocker. Lord Krauser is going to commit suicide on stage! Or is it something else – something like suicide? Next two rabid fans battle one another to see which of them is the true minion of Lord Krauser. Soichi Negishi travels back to rural Oita for his sister, Tomoko's wedding, and guess who is going to make a surprise appearance? Soichi also meets Takako, a like-minded street musician; he'd like to get to know her and maybe even perform with her… unless a certain dark lord gets in the way. And speaking of dark lords: someone from Soichi's record label's dark past is back!
THE LOWDOWN: I previously complained that when creator Kiminori Wakasugi set DMC stories in the heavy metal culture, those stories were not as funny, contentious, or subversive as the ones in which Lord Krauser invaded the world of the straights and the normal people. This fifth volume of Detroit Metal City is a full-on onslaught of metal meets mainstream society. The two-part story, "The Wedding," about Soichi's sister's nuptials, is a righteous clash of two cultures. The groom's male member even snags a major supporting role in the story. When Detroit Metal City is on its game, it is the real deal in crazy, outrageous fun.
POSSIBLE AUDIENCE: Fans who want to see the outlandish spawn of manga and metal's Hell-designed union must go to Detroit Metal City.
A-
Last Updated: January 24, 2022 - 11:00