Detroit Metal City: Volume 9
By Leroy Douresseaux
June 11, 2011 - 11:06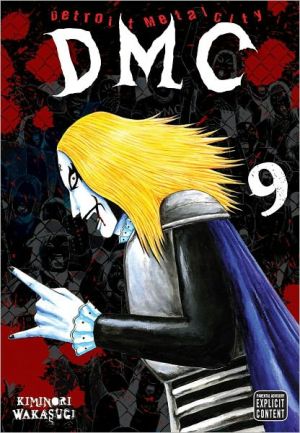 Detroit Metal City Volume 9 cover image is courtesy of barnesandnoble.com.
Rated "M" for "Mature"
He may be sweet-natured and well-mannered. He may be a big pop music fan who loves shopping in trendy places and doing whatever is fashionable. However, Soichi Negishi is also Lord Johannes Krauser II, the front man and guitarist of the indie death metal band, Detroit Metal City. No matter how much he wishes he could simply play his acoustic guitar and sing happy songs, Soichi is a natural death metal god.
In Detroit Metal City, Vol. 9, Soichi gets a new car, meets Mao the gorilla-faced girl, and attempts to share his father's love of the combine (a farm vehicle). However, the big story is that there is a new metal act on the scene – someone calling himself "God." This mysterious fellow has ties to a past metal legend, but Soichi is about to discover that God is just like him.
THE LOWDOWN: The best thing about Detroit Metal City is how creator Kiminori Wakasugi places the bizarre world of death metal in the context of normal, everyday people. The aspects of metal culture that make it into DMC are inventively spun by Wakasugi, but he is at his best when he has the outrageous characters from the world of black metal clash with straight folks. That said, the best thing about this ninth volume is Wakasugi's depiction of outcasts trying to not only fit into the everyday world, but also to succeed as artists and as celebrated people is both poignant and masterfully done.
POSSIBLE AUDIENCE: Fans of heavy metal will love Detroit Metal City.
A-
Last Updated: January 24, 2022 - 11:00