Detroit Metal City: Volume 7
By Leroy Douresseaux
December 11, 2010 - 14:11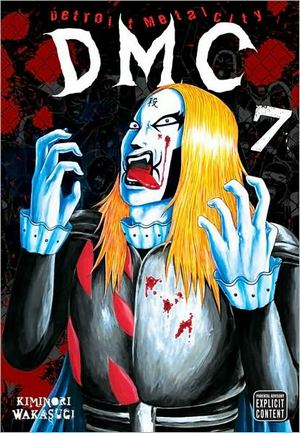 Detroit Metal City Volume 7 cover image is courtesy of barnesandnoble.com.
Rated "M" for "Mature"
Sweet-natured, well-mannered Soichi Negishi is a big pop music fan, and he also loves shopping in trendy places and doing whatever is fashionable. At the same time, however, Soichi is also Lord Johannes Krauser II, the front man and guitarist for the indie death metal band, Detroit Metal City. No matter how much he wishes he could simply play his acoustic guitar and sing happy songs, Soichi must admit to himself that as a death metal god, he is a natural.
As Detroit Metal City, Vol. 7 opens, Gaylord Kitahara AKA "Shinigami G" has completed his plan for vengeance. Gone are Lord Krauser II and Detroit Metal City. Now, Gaylord is Lord Krauser I and fronts a new DMC. Meanwhile, Soichi has renounced metal and lives at the Art Studio, an apartment where the residents are college students and budding young artists. They encourage each other's creativity and projects, but can Soichi, a death metal god, really fit in with them? And how long can he suppress his dark side?
THE LOWDOWN: Creator Kiminori Wakasugi usually does his best work in Detroit Metal City when he pits his lead character against the world of normal, everyday folks. Another good thing about this series are new characters, such as Gaylord Kitahara, who is worthy of an encore. However, the chapter that introduces the band, Deathism, and the feces-lovers associated with the act promises to add to this series' giant bag of deranged fun.
POSSIBLE AUDIENCE: Fans of metal will love Detroit Metal City.
A-
Last Updated: August 31, 2023 - 08:12