Detroit Metal City: Volume 10
By Leroy Douresseaux
October 26, 2011 - 08:33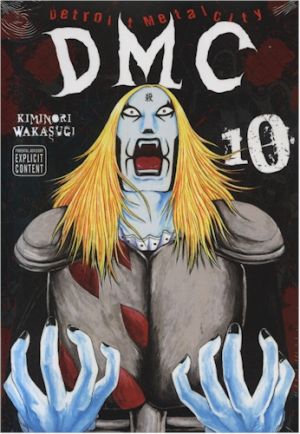 Detroit Metal City Volume 10 cover image is courtesy of barnesandnoble.com.
Rated "M" for "Mature"
Soichi Negishi may be sweet-natured and well-mannered, and he may be a big pop music fan who loves shopping in trendy places and doing whatever is fashionable. He is also Lord Johannes Krauser II, the front man and guitarist of the indie death metal band, Detroit Metal City (DMC). No matter how much he wishes he could simply play his acoustic guitar and sing happy songs, Soichi is a natural death metal god.
In Detroit Metal City, Vol. 10, the series comes to an end. Soichi has given up being Lord Johannes Krauser II, and now pays his acoustical jams in Paris, but do any Parisians care? Meanwhile, there is a new death metal god and he's called… God! Will Soichi accept God's challenge and return to claim his throne… as Lord Krauser? Will Soichi finally tell Yuri Aikawa that he loves her? Will he dare reveal to her that he is Lord Johannes Krauser II? All the answers are here.
THE LOWDOWN: I think that Detroit Metal City creator Kiminori Wakasugi has knowledge of the death metal scene; he'd have to in order to produce such a manga. I think he also has some love for the scene. The relentless skewering of the fans and the depiction of the musicians' narcissism is balanced by the clever situation comedies that are most chapters. Detroit Metal City did not have to end; it could have run for several more years, at least. But perhaps it is smart to leave while the series is still fresh.
POSSIBLE AUDIENCE: Fans of heavy metal will love Detroit Metal City.
B+
Last Updated: August 31, 2023 - 08:12