Comics / Comic Reviews / More Comics
Aw Yeah!: Hasbro Action Figure Jam comics review

By Leroy Douresseaux
December 4, 2017 - 14:25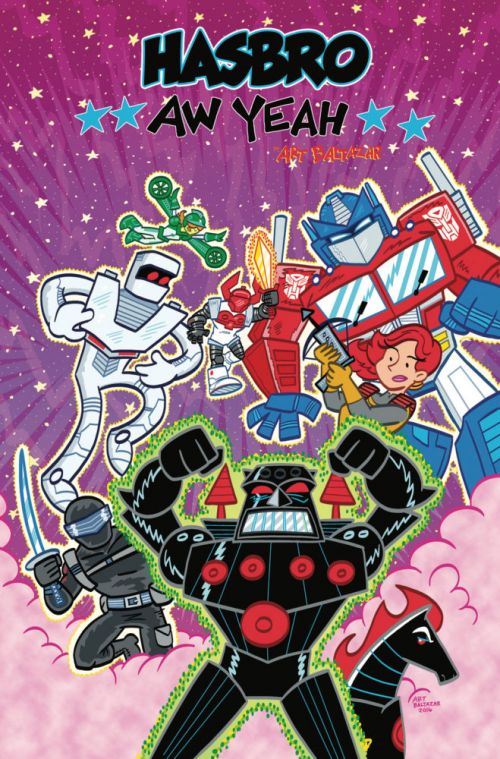 Aw Yeah!: Hasbro Action Figure Jam cover image
Recommended for readers age 7 to 10 and grades 2 to 5
Aw Yeah!: Hasbro Action Figure Jam
is a hardcover comic book and children's graphic novel written, drawn, and colored by Eisner Award-winning comic book creator,
Art Baltazar
(
Tiny Titans
). Aw Yeah! collects the three-issue comic book miniseries,
Revolution: Aw Yeah!
, that Baltazar produced and IDW Publishing released earlier this year.
Revolution: Aw Yeah! was a media tie-in comic book that brought together action figure and merchandise franchises that belong to toy company giant, Hasbro. That includes Hasbro's big two,
G.I. Joe
and
Transformers
, but the stars of Action Man, M.A.S.K.: Mobile Armored Strike Kommand, Micronauts, and Rom also appear.
The story begins beyond the galaxy in the land of "
Microspace
," the home of the
Micronauts
and their arch-nemesis,
Baron Karza
. The villain's latest plot to grab "ultimate power in the universe," takes him to Earth, where he will find the "
Orbsah Gem
." Earth is also the home of one of two players in Karza's plan, the Transformer,
Optimus Prime
, whom Karza must control. In another part of the galaxy is the second player, the warrior Rom.
The Transformers, of course, will try to rescue their colleague, Optimus, and before long, G.I. Joe and the Micronauts join the good fight. However, bad guys,
COBRA
and the
Dire Wraiths
, do not plan on sitting out this fight on the sidelines. The battle is joined.
THE LOWDOWN:
I have never been a big fan of Art Baltazar, not because his work is not any good, but because I assumed that his work was not for me. Aw Yeah!: Hasbro Action Figure Jam is making me reconsider such assumptions.
Aw Yeah!: Hasbro Action Figure Jam is just a fun comic book to read. It is the kind of kids' comic book that I think the North American market needs more. By that, I mean a humorous comic book featuring favorite heroes, from comic books, toys, or elsewhere, that is produced by someone who knows how to create genuinely humorous situations in which our favorite heroes play funny parts. This comic should be playful, but also true to the spirit of these characters, even as it makes fun of their conflicts, rivalries, and machinations.
In Aw Yeah!: Hasbro Action Figure Jam, Art Baltazar has produced a winning package that even adult fans of these media franchises can like. Why? It's simple: this is a good comic book, and comic books should be good.
I READS YOU RECOMMENDS:
Fans of G.I. Joe, Transformers, and other Hasbro characters will want
Aw Yeah!: Hasbro Action Figure Jam
, which is also an excellent comic book for kids.
A
9 out of 10
Rating: 9 /10
Last Updated: January 24, 2022 - 11:00