Hasbro Finally Gets Marvel Legends
By Randy Herkowitz
August 17, 2008 - 02:00
Ever since Toybiz relinquished the rights to Hasbro Toys to make action figures and other related items, Hasbro has stumbled quite a bit. They never seemed to be able to capture the magic Toybiz did with the hugely popular Marvel Legends series. Hasbro Toys refused to use paint washes that brought out the many details in the sculpting and Hasbro Toys' figures themselves were sub-Par compared to Toybiz' versions of Marvel comic book superheroes.


Hasbro Toys introduced their "Mighty Muggs" series with some fun interpretations of some of the most popular Marvel superheroes. That was a big step for them but Mighty Muggs are a niche market and collector's still craved well sculpted and articulated action figures.
At this years San Diego Comic-Con (the comic book and pop culture's convention heaven), Hasbro Toys wowed collector's with their new line of 3 ¾ inch Marvel Superheroes. Not only are the figures well sculpted and articulated but this gives Hasbro Toys a chance to revisit all of Marvel Comic books greatest superheroes. This new series is appropriately called, "Marvel Universe".
I personally am a big fan of the 3 ¾" scale as it allows collecting to be easier on the wallet and space in the home. Many toy companies are going this route most likely due to the rising oil cost which is one of the primary ingredients in plastic.
For those who prefer the larger scale Marvel Legends action figures, don't worry because Hasbro will be continuing the series and it looks like they've stepped up the quality a bit. Personally, I very much like the Tiger Stripe Wolverine action figure shown at the San Diego Comic-Con. However, most of the future Marvel Legends waves will be department store exclusives. So, if you don't have a Wal-Mart, Target or Toys R' Us near you, you may have to resort to online retailers or Ebay.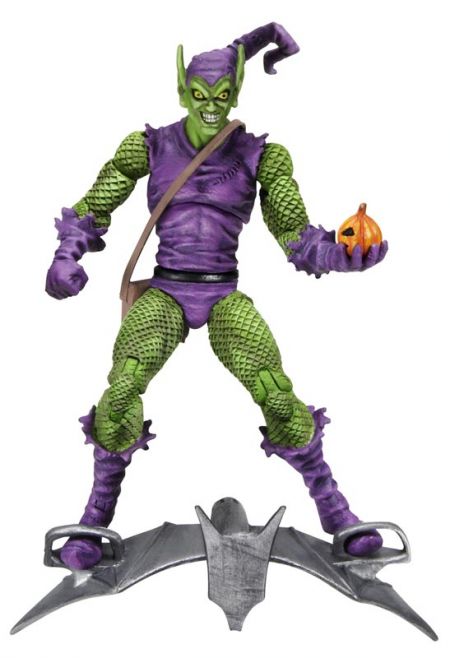 The rest of 2008 and 2009 should prove to be a good phase for Marvel comic book superhero action figure collector's with the 3 ¾" Marvel Universe action figures, the six inch Marvel Legends, the designer toys styled Mighty Muggs and the 12" Marvel Icons series. That's not all either! It looks like movie based toys of Iron-Man and the Incredible Hulk will continue as long as collectors continue to buy them. Plus, there are the Spider-Man animated styled action figures and I can't forget the popular and adorable Super Hero Squad. These are two inch figurines targeted towards a younger audience yet adored by adult collectors as well.
The only unfortunate aspect of Hasbro's line-up of Marvel superheroes is it seems that the popular "Build-A-Figure" concept will be going on hiatus. As far as I know Hasbro did not confirm when or if they will be returning. It would be great to see the Build-A-Figure concept used with the 3 ¾" Marvel Universe figures. I guess that will be a wait and see situation.
I'm glad that Hasbro Toys seems to be finding their way with the Marvel toy license as the Marvel comic book characters are very popular and loved. If these series are successful it will just add to Hasbro Toys already strong offerings of Star Wars, Indiana Jones, G.I. Joe and Transformers action figures and toys. They will be an unstoppable force to be reckoned with in 2009 and beyond.
Last Updated: January 24, 2022 - 11:00