Hasbro's Millennium Falcon
By Christopher Moshier
July 27, 2008 - 07:02
Once upon a time I was an avid collector of everything Hasbro put out with the name "Star Wars" attached to it. Believe it or not, once upon a time you could collect everything and still have money to eat any given week. Then things just went crazy and out of control. Exclusive after exclusive was produced for said store or said event. I'm not an anal retentive completist, but it did irk me that I wasn't able to get the stuff I wanted without paying the jacked up, insane Ebay prices for those hard to get items. So I simply stopped collecting. I don't know if other collectors did the same, but apparently me stopping didn't hurt Hasbro any.
Earlier this year, my friend and fellow collector commented on a completely new Millennium Falcon that Hasbro was going to release. It was quickly termed the BMF (Big Millennium Falcon) from the collector community. Big is right. I wasn't even interested until my friend told me it was going to be 2 ½ feet long. Holy (add profanity)! This got me completely jazzed. So jazzed that yesterday this thirty-eight year old with the twelve year-old mentality waltzed into his local Toys R Us and picked himself up the monster of all Star Wars vehicles.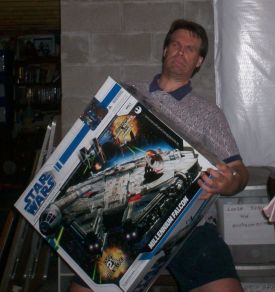 This thing is massive. And I know what you're thinking. You all wish you had a shirt just like mine.
The price of this monster was $159.99 (plus tax). I paid a little over $50 for it and let me tell you why. I'm not an advocate of credit cards. They do a lot of people harm and they can easily get out of control. BUT! If you have a Toys R Us credit card you get 10% savings rewards if you use it to purchase anything at the toy store or 1% if you use it at any other location. My gas, groceries, cable bill and adult beverages go on this card. Every month (or so) I get a couple $10 Toys R Us gift certificates in the mail due to charging my above purchases. This is fantastic as I've saved mega money over the years. I had twelve of those babies saved over time when I purchased the BMF. I highly recommend doing this if you are of age (of course) and are responsible with your money. YES KIDS! You have to pay the card off every month so they don't hit you with interest. Just a little hint for you in the midst of this write-up. Now back to the show.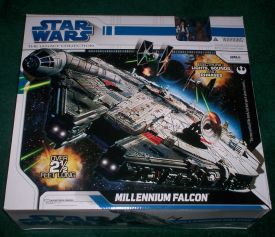 Introducing the BMF. It goes by the name of the Big Millennium Falcon, but the acronym should really stand for Big Mother *BLEEP*.
I got this puppy home and opened her right up. It took me about ten minutes to unpack and assemble. Personally, I pack the decal stickers away and don't put them on my collectibles (OK! Toys!). If you're someone that puts the stickers on its going to take you a while as there are many. I also packed away the projectile missiles and the Dejarik game pieces. The Big Millennium Falcon is an amazing, detailed vehicle. Selfishly, I wish they would have made it a couple feet longer. I wouldn't have minded the extra cost, but alas I'm very pleased with my purchase. It fits in awesome with the other Star Wars vehicles.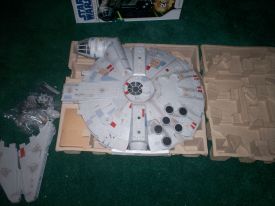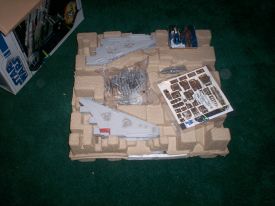 I do have one complaint about the entire ship. The landing gear easily snaps off. I'm not sure how many children would actually get their hands on the BMF due to the price point, but I can see myself as a kid getting frustrated every time I want to land the thing and the bottom gear falls off. With Hasbro taking the time to get this vehicle right why they would settle for this snap on landing gear is beyond me.
Here's the features of the Big Millennium Falcon as Hasbro describes them.
Light-up headlights and loads of electronic vehicle and weapon sounds—engine boost, cruise mode, fly-by, firing cannons, and much more.

Opening, light-up cockpit can fit up to 4 figures. Vehicle includes Han Solo and Chewbacca and can hold up to 18 figures.

Remove outer panels to access the ship's interior, then head for the medical bay to treat wounded Rebels.

Secret smuggling compartments to hide from Stormtroopers.

Authentic movie phrases from Han, Luke, Obi-Wan, C-3PO, Chewbacca, and R2-D2.

Remove outer panels to access the ship's interior, then head for the medical bay to treat wounded Rebels.

Secret smuggling compartments to hide from Stormtroopers.

Boarding ramp with auto-opening action, deployment sounds and landing lights.

Pivoting gunner station to target Imperial fighters.

Light-up hyperdrive lights and authentic movie phrases and sounds from favorite characters: Han, Luke, Obi-Wan, C-3PO, Chewbacca and R2-D2.

Rotating laser turret fires 2 missiles and makes weapon sounds; ship also features a 3-missile launcher with blasting sounds, and a cannon that launches a "laser" missile.

Missile-firing mini-fighter fits inside an opening docking bay that makes electronic boarding and flight sounds.

Pivoting training probe makes lightsaber and movement sounds – learn the power of the Force.

Illuminated Dejarik table with holographic creatures.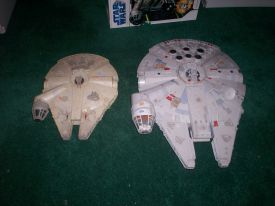 The classic Hasbro (Kenner) Millennium Falcon side by side with the new and improved MF.
My final thought is Hasbro has brought justice not only to the Millennium Falcon, but also the X-Wing fighter a while back. Hopefully, with the success of both vehicles, Hasbro will go back to the original trilogy and redo the Tie-Fighter or (god forbid), the Twin Cloud Car. Keep this up Hasbro. You're getting my money again.
Rating: 9 /10
Last Updated: January 24, 2022 - 10:57