Case Closed: Volume 54 manga review
By Leroy Douresseaux
April 18, 2015 - 21:21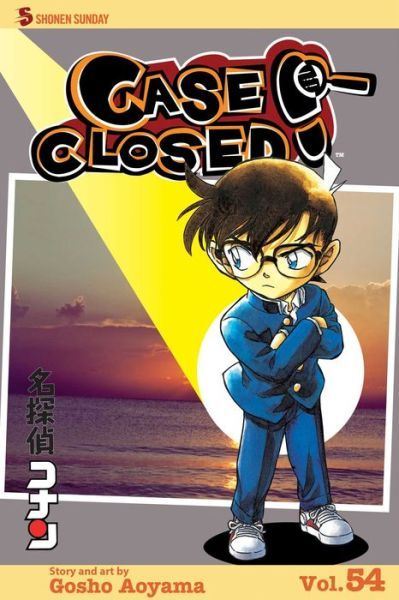 Case Closed Volume 54 cover image is courtesy of barnesandnoble.com.
Follow me on
Twitter
.
Rated "T+" for "Older Teen"
Jimmy Kudo
, ace high school detective, was trailing two suspicious men in black (Gin and Vodka). The nefarious duo attacked Kudo and administered a mysterious substance that physically transformed the teen detective into a first grader. While searching for a cure, Jimmy adopts a new identity, becoming elementary school student,
Conan Edogawa
. Acting alone and sometimes with his friends, the
Junior Detective League
(JDL), Jimmy/Conan continues to solve criminal cases and mysteries.
Case Closed

, Vol. 54
opens with the murder of a star-gazing wife and mother. Her young son thinks a woman that Conan is tracking is the killer, but is
Rena Mizunashi
really the killer? Next, a woman dies during a snowboarding accident... not really. A friend killed her, but which one, Conan wonders?
Conan,
Richard Moore
(the "Sleeping Detective"), and his daughter,
Rachel
, join
Harley Hartwell
(another great teen detective) and his girlfriend,
Kazuha
, for an old-fashioned cherry blossom viewing trip. There, the group discovers a haunted shrine that seems to devour corpses. Is the secret of this bizarre phenomenon an ancient curse, murder, or good intentions?
THE LOWDOWN:
Case closed: I love the
Case Closed
manga. Known as
Detective Conan
in Japan, this cozy mystery will cozy up to any mystery fan.
Case Closed Volume 54
is a stand-our volume for me. "The Moving Shrine Room" story is not quite what it seems, while being exactly what it is supposed to be. Creator
Gosho Aoyama
always finds novel ways to spin a mystery yarns, which makes everything seem fresh and new. This graphic novel also starts a good story featuring four teen detectives (including Conan and Harley) that will continue into the next volume, and it promises to be fantastic. Like I need a new reason to come back...
POSSIBLE AUDIENCE:
Readers looking for fun mystery fiction will want to investigate the "Shonen Sunday" detective manga,
Case Closed
.
Last Updated: January 24, 2022 - 11:00