Case Closed: Volume 61 manga review
By Leroy Douresseaux
February 4, 2017 - 08:01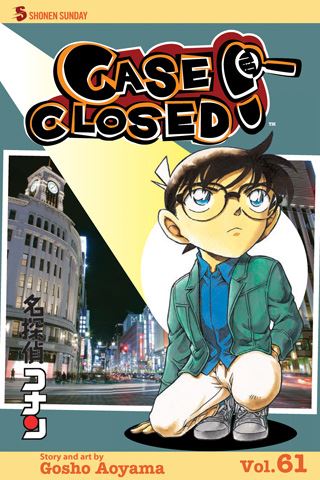 Case Closed Volume 61 cover image
Rated "T+" for "Older Teen"
When
Jimmy Kudo
was trailing two suspicious men in black (Gin and Vodka), the nefarious duo attacked the ace high school detective and administered a mysterious substance that physically transformed the teen into a first grader. While searching for a cure, Jimmy adopts a new identity, becoming elementary school student,
Conan Edogawa
. Acting alone and sometimes with his friends, the
Junior Detective League
(JDL), Jimmy/Conan continues to solve criminal cases and mysteries.
As
Case Closed

, Vol. 61
("Shoes to Die For") opens, the great thief, "
the Kaito Kid
" a.k.a. "the Moonlight Magician," is back. Now, Serena's
Uncle Jirokichi
is determined to capture him and has offered priceless bejeweled shoes as a trap, but the Kid is up to the challenge. Is Conan smart enough to stop him?
Next, the JDL and eccentric inventor,
Dr. Herschel Agasa
, are headed to the mountains for a picnic when they happen upon a car explosion that kills a rich jerk. Conan is sure the explosion was planned, which means murder most foul, but he must prove it. Then, Conan tries to crack the code of a prankster who is littering the city with paper planes. However, the mysterious young man staying in Jimmy Kudo's long-vacated house is matching him clue for clue.
THE LOWDOWN:
You may know this already. Anyone who is a regular reader of my reviews has caught on that I love the Case Closed manga. Known as Detective Conan in Japan, this long-running cozy mystery manga will cozy up to any mystery fan, and it has certainly won me over. I love it more than ever.
Case Closed Volume 61
, the first volume that I have read in a year, does everything it can to keep me a fan. "The Kaito Kid" is a fun, breathless read, but it does stretch credulity. The exploding classic car murder offers an ingenious murder plot that is fun simply because we get to chase Conan's imagination and deductive skills. The "paper planes prankster" has a heartfelt resolution that embodies creator Gosho Aoyama's inventiveness.
I READS YOU RECOMMENDS:
Readers looking for fun mystery fiction will want to investigate the "Shonen Sunday" detective manga, Case Closed.
A+
Last Updated: January 24, 2022 - 11:00