Case Closed: Volume 63 manga review
By Leroy Douresseaux
July 16, 2017 - 12:22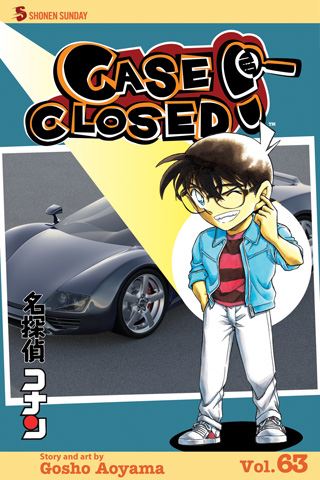 Case Closed Volume 63 cover image
Rated "T+" for "Older Teen"
Jimmy Kudo was trailing two suspicious men in black (Gin and Vodka). The nefarious duo attacked the ace high school detective and administered a mysterious substance that physically transformed the teen into a first grader. While searching for a cure, Jimmy adopts a new identity, becoming elementary school student, Conan Edogawa. Acting alone and sometimes with his friends, the Junior Detective League (JDL), Jimmy/Conan continues to solve criminal cases and mysteries.
Case Closed, Vol. 63 ("Conan Dreams of Sushi") finds that Jimmy Kudo is back! It is all thanks to a formula that can temporarily make Conan become a teenager again. Jimmy has joined "the other greatest teen detective in Japan," Harley Hartwell, to solve the case of a man who was killed inside a locked car. Next, Dr. Herschel Agasa takes Conan and the Junior Detective League to a "revolving sushi" restaurant, "Senpuken," where they end up in a murder case after a customer is poisoned. Then, Conan tries to solve the case of the ghostly drag racer, "the Silver Witch."
THE LOWDOWN:
You know this already, if you are a regular reader of my reviews. I love the Case Closed manga, which is known as
Detective Conan
in Japan. I can't wait to read new volumes of this long-running cozy mystery manga will cozy up to any mystery fan.
Case Closed Volume 63
offers two delightful mysteries involving cars, with one of them being an automotive version of a "locked room" mystery. "Revolving sushi" is something new to me, but I was impressed with the mystery Case Closed creator
Gosho Aoyama
fashioned from that type of restaurant. There is also a weird contest to round things out, and it is as good a reason for me to once again highly recommend Case Closed.
I READS YOU RECOMMENDS:
Readers looking for fun mystery fiction will want to investigate the "Shonen Sunday" detective manga,
Case Closed
.
A
9 out of 10
Rating: 9 /10
Last Updated: January 24, 2022 - 11:00