Case Closed: Volume 53 manga review
By Leroy Douresseaux
February 26, 2015 - 18:52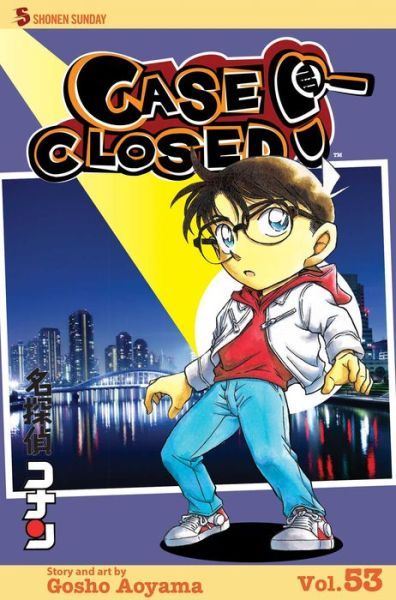 Case Closed Volume 53 cover image is courtesy of barnesandnoble.com.
Follow me on
Twitter
.
Rated "T+" for "Older Teen"
Once upon a time, Jimmy Kudo, the ace high school detective, was trailing two men in black (Gin and Vodka). This nefarious duo attacked Kudo and administered to him a mysterious substance that physically transformed the teen detective into a first grader. While searching for a cure, Jimmy adopts a new identity; he becomes elementary school student,
Conan Edogawa
. Acting alone and sometimes with his friends, the
Junior Detective League
(JDL), Jimmy/Conan continues to solve criminal cases and mysteries.
As
Case Closed

, Vol. 53
opens, Conan,
Richard Moore
(the "Sleeping Detective") and his daughter,
Rachel
, confront
The Kaito Kid
. This elusive thief has announced that he is going to steal the latest painting created by the famous artist,
Takeyori Oikawa
. Conan is determined to finally capture the Kaito Kid, but a man is killed right under Conan's nose. Has Kaito turned to murder?
Next, it's a rainy day at school, and the kids in
Class 1-B
are bored. Their teacher,
Ms. Kobayashi
, has a cure for the rainy day blues, and she is determined to stop Conan from ruining her plans. Then, a little boy is a witness to a murder, but no one can understand his strange testimony. In addition, Rachel's new friend,
Eisuke Hondo
, is distracting Conan, maybe because Eisuke resembles one of the infamous
Men in Black
!
THE LOWDOWN:
As always, I will qualify my review by saying that the
Case Closed
manga is one of my favorite manga and is also one of my all-time favorite comic books and graphic novels. Known as
Detective Conan
in Japan,
Case Closed
is hugely enjoyable. Whenever I finishing reading a volume, I always want more.
Case Closed Volume 53
offers one suspense filled tale (the Kaito Kid), and one funny, kiddie mystery (rainy day story). The story arc that begins with the chapter, "Sole Witness," is a twisty tale meant to distract the reader. After all, its primary purpose is tease readers with another foray into the world of the Men in Black (also called the "Black Organization"). And that always means danger for Conan, but that peril is a thrill for longtime readers and fans.
POSSIBLE AUDIENCE:
Readers looking for fun mystery fiction must choose the "Shonen Sunday" detective manga,
Case Closed
.
Last Updated: January 24, 2022 - 11:00