Captive Hearts: Volume 5
By Leroy Douresseaux
June 25, 2009 - 12:41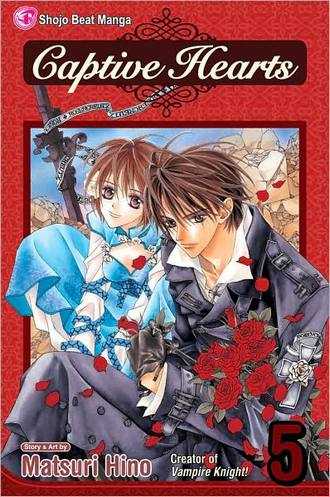 Captive Hearts Volume 5 cover image is courtesy of barnesandnoble.com..
Rated "T" for "Teen"
Megumi Kuroishi was living the life of luxury in the Kogami Family mansion with his father, Yoshimi, a butler. The last of the Kogamis (a father, mother, and their daughter), whom his father had loyally served for three decades, disappeared several years ago. One day, the daughter, Suzuka Kogami, now a teen girl, walked through the door, and Megumi found himself kneeling before her. For the first time, Megumi learned of the family curse, one which forces the Kuroishis to serve the Kogamis for 100 generations. The feelings Megumi has for Suzuka, and she for him, however, may have nothing to do with the family curse.
The series comes to a close with Captive Hearts, Vol. 5. Suzuka has made it her mission to unravel the mystery of the Dragon God, who joined the Kogamis and the Kuroishis through the bonds of the curse of servitude. Megumi and Suzuka recently found the lost scroll wherein the Dragon God, who calls himself "An," resides. An informs them that he charged the Kogami family with discovering the whereabouts of a lost jewel, one that when found will restore his powers.
Suzuka is convinced that finding the jewel will also lead to releasing the Kuroishi family from the curse of servitude. Megumi and Suzuka travel to China to find the jewel, but they soon encounter another group of people cursed by An, and they're out for blood.
THE LOWDOWN: As great a read as it has been, Captive Hearts improved as the story went along, with practically each chapter getting a little stronger than the one before it. Vol. 5 could actually stand on its own, as a separate volume containing a tale about a couple's adventure in the wilds of rural China. Creator Matsuri Hino has filled these final chapters with so many electrifying elements: magic, young love, a ghost, chases through the forest, kidnappings, revenge, a centuries old romance, and an awesome Dragon God.
Hino's pretty drawing style is typical of shojo romance geared towards young readers. However, the rendering of An in full dragon mode is… breathtaking. Even if you don't buy this book, you should find a copy and flip through it until you find the double-page spread, featuring a close-up of An.
POSSIBLE AUDIENCE: Fans of fantasy-tinged romance will want Captive Hearts.
A
Last Updated: January 24, 2022 - 11:00