Matsuri Hino's Captive Hearts: Volume 2
By Leroy Douresseaux
Dec 22, 2008 - 13:08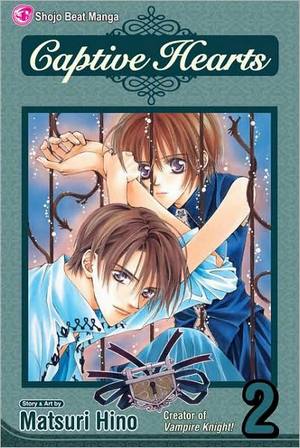 Captive Hearts 2 cover is courtesy of barnesandnoble.com.
Rated "T" for "Teen"
Megumi Kuroishi and his father, Yoshimi, had been living a life of luxury in the mansion of the Kogami family, whom Yoshimi loyally served for 30 years. Then, one day, the last surviving member of Yoshimi's employees, a teen girl named Suzuka Kogami, walked in the door, and Megumi finds himself kneeling before her. For the first time, Megumi learns that because of a family curse, the Kuroishis must serve the Kogamis, so is the love Megumi feels for Suzuka real or just a result of the curse?
As Captive Hearts, Vol. 2 begins, Megumi and Suzuka still struggle with their relationship. Suddenly, there's another complication (as there always is). Hiryu Takatsukasa, a wealthy heir, wants to marry Suzuka. Not only does she reject him, but Megumi also presents interference. In steps Minato Shibata, Hiryu's servant; he is also a blood relative of Suzuka, and the Kuroishi family curse makes Megumi also meek before Minato. Will Minato use the curse to help his master marry Suzuka? Later, people from both Megumi and Suzuka's pasts arrive and reopen old wounds for Suzuka.
THE LOWDOWN: One would think Captive Hearts' simple concept and main plotline would grow tiresome after a few chapters. I certainly did, and it does have its arid moments. Captive Hearts creator, manga-ka Matsuri Hino (Vampire Knight), has a spry imagination, which she uses to concoct eccentric and entertaining characters. It's also refreshing to see characters with unsavory traits and annoying habits that are so engaging and still likeable. Her art, with all its pretty patterns, flower effects, stylish clothes, etc. is typical shoujo manga (comics for teen girls), but the deforming on the figure drawing gives the series a unique comic feel.
POSSIBLE AUDIENCE: Although this series is aimed at teens, Captive Hearts is strange, edgy, and whacky enough to appeal to older readers.
B
Last Updated: Jun 26, 2018 - 9:28