Matsuri Hino's Captive Hearts: Volume 1
By Leroy Douresseaux
Oct 21, 2008 - 10:20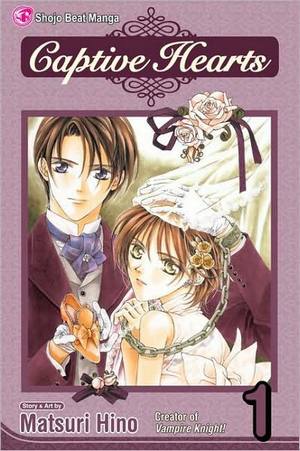 Thanks to barnesandnoble.com for the above image.
Rated "T" for "Teen"
For the past few years, Megumi Kuroishi and his father, Yoshimi, have been living a life of luxury in the mansion of the Kogami family, whom Yoshimi loyally served for 30 years. Then, one day, a teen girl named Suzuka Kogami walks in the door, and Megumi finds himself kneeling before her. What gives?
In Captive Hearts, Vol. 1, Megumi learns that his family has served the Kogami family for generations due to a curse, which forces them to strictly obey orders from any member of the Kogami family. Megumi falls in love with the beautiful Suzuka, but he wonders if his feelings are real or are they just the results of a curse that can turn him into a submissive servant.
[This volume also includes 3 short stories by the author: "Red Storm," "Let Time Freeze," and "Safety Precautions and Practical Applications."]
THE LOWDOWN: Although Captive Hearts is prettily drawn, the treat is watching artist Matsuri Hino (Vampire Knight) put her character, Megumi Kuroishi, through the paces of physical comedy. Seeing Megumi convulse and run around under the sway of the family curse can be fairly funny. It's the comedy that carries this somewhat ordinary teenage shoujo romance.
POSSIBLE AUDIENCE: As part of VIZ Media's "Shojo Beat" line of manga, Captive Hearts will appeal to shoujo manga (girls' comics) fans, especially fans of star-crossed teen romances.
B
Last Updated: Jun 26, 2018 - 9:28