Captive Hearts: Volume 4
By Leroy Douresseaux
May 1, 2009 - 10:45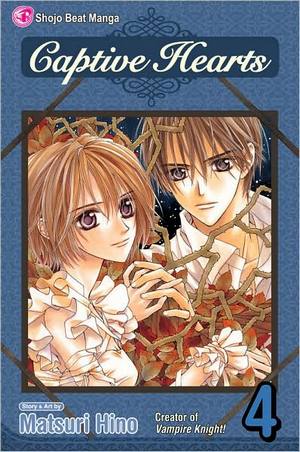 Captive Hearts Volume 4 cover image is courtesy of barnesandnoble.com.
Rated "T" for "Teen"
Megumi Kuroishi was living the life of luxury in the Kogami Family mansion. The last of the Kogamis (a father, mother, and their daughter), whom his father, Yoshimi, had loyally served for 30 years, disappeared several years ago. One day, the daughter, Suzuka Kogami, now a teen girl, walked through the door, and Megumi found himself kneeling before her. For the first time, Megumi learned that because of a family curse, the Kuroishis must serve the Kogamis, but the feelings Megumi has for Suzuka may have nothing to do with the family curse.
Captive Hearts, Vol. 4 opens with Suzuka experiencing feelings of jealousy whenever she observes Megumi having a close interaction with the young maid, Rui Sakurayama. Meanwhile, Megumi and Suzuka continue to struggle with their feelings for one another, especially with the curse making it difficult for them to have a normal relationship. Suzuka becomes determined to unravel the mystery of the Dragon God who allegedly joined the Kogamis and the Kuroishis, but that means finding the scroll wherein the Dragon God resides – which is currently lost.
THE LOWDOWN: It is cheesy for me to declare in this public forum that Captive Hearts has captured my heart. After reading the first tankoubon (collection), I thought the series had potential, but by the end of the second volume, I was sold on this series and still am – whether it meets the heights of its potential or not.
Captive Hearts isn't merely another fantasy, teen romance. Yes, creator Matsuri Hino (Vampire Knight) frequently presents page after page of awkward teens struggling with love… and a curse. However, the mixture of intriguing supporting characters and the narrative forays into the past (which often feature the adorable child versions of Megumi and Suzuka) give Captive Hearts its own distinctive tang.
POSSIBLE AUDIENCE: Fans of Hino's Vampire Knight will like Captive Hearts, which is at least the vampire manga's equal in terms of quality.
A-
Last Updated: Jun 26, 2018 - 9:28