Bluefin Selling "Tarn" Transformers Action Figure
By The Editor
April 19, 2018 - 15:21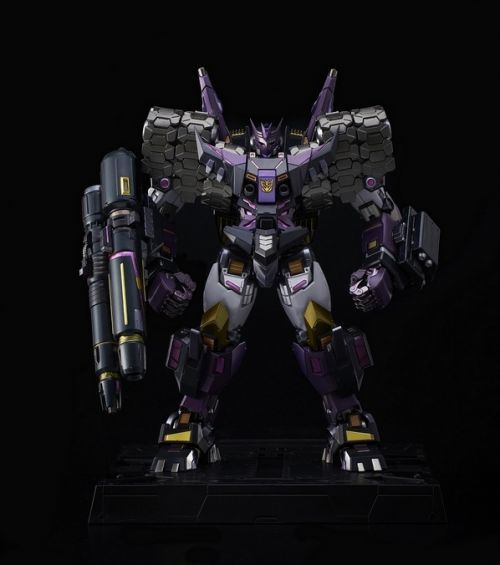 Transformers "Tarn" action figure image
BLUEFIN OPENS PRE-ORDERS FOR NEW "TARN" TRANSFORMERS ACTION FIGURE FROM FLAME TOYS
Leading Japanese Collectibles Distributor Expands Catalog Of Transformers Collectibles With New Exquisitely Detailed 8 Inch Action Figure Of The Fan Favorite Decepticon
Bluefin, the leading North American distributor of toys, collectibles, and hobby merchandise from Japan and Asia, announces an extraordinary new Transformers collectible as it opens pre-orders for a highly detailed action figure for Tarn from Hong Kong-based Flame Toys.
The second release in Flame Toys' limited-edition Transformers series introduces the eloquent Decepticon from the hit IDW comic series. Tarn is highly articulated and features a detachable face mask. The figure is accessorized with two buster guns that can be combined, as well as 3 LED's that add light-up accents. The figure (non-transformable) is extremely posable and is constructed of high quality ABS and die-cast metal accents. Tarn stands 8.3 inches tall and represents a pinnacle collector's piece destined to delight any ardent Transformers fan.
The Tarn Transformers figure from Flame Toys is set for release in October by authorized Bluefin retailers nationwide and also from select leading online outlets. Pre-orders are available now; MSRP will be $400.00. Bluefin is the official North American master distributor for Flame Toys.
The forthcoming release of Tarn will complement the debut earlier this year of Flame Toys' Drift Transformers figure.
Released in January, this extraordinary, officially licensed Drift rendering stands 8 inches tall and is constructed with high quality die-cast parts with more than 50 jointed linkage articulation features to allow for maximum realistic poseability. This release is also a must-have for any ardent pop culture collector or Transformers fan.
The (non-transforming) Drift figure also features 3 interchangeable facial expressions and contains 6 LED units that provide light-up displays on its body. The figure includes 3 sword weapons and a cape that is accented with bendable wires that allow for dramatic, anime-style windswept poses.
The Drift Transformers figure from Flame Toys is available now from authorized Bluefin retailers nationwide with an MSRP of $299.99.
About Bluefin
Based in Anaheim, CA, Bluefin built its reputation as a leading distributor of Japanese toys, collectibles, novelty and hobby products. In recent years, Bluefin has grown to include a range of high quality collectible lines from the United States, Hong Kong, Taiwan and Singapore and established itself as the official North American consumer products and retail development partner for Studio Ghibli. Selling to thousands of specialty, chain and independent stores, Bluefin is an official North American distributor for Bandai Hobby, Bandai Shokugan, Storm Collectibles, Blitzway, and is the sole provider of Bandai Tamashii Nations products, and is also the exclusive and official distributor for Mr. Hobby, SEN-TI-NEL and Flame Toys. Additional information is available at: www.bluefincorp.com.
Last Updated: August 31, 2023 - 08:12