Bluefin Announces New Direct Buy Website
By The Editor
October 10, 2017 - 11:10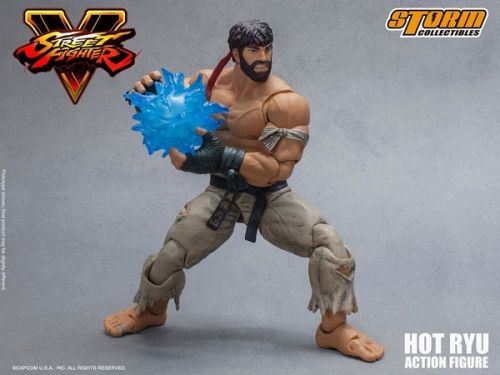 Storm Collectibles Hot Ryu San Diego Comic Con Exclusive
BLUEFIN LAUNCHES WEBSITE OFFERING NORTH AMERICAN COLLECTORS DIRECT BUY ACCESS TO SPECIAL PRODUCTS FROM BANDAI, BANDAI HOBBY, STORM COLLECTIBLES AND MORE
Collectors And Pop Culture Fans Invited To Celebrate The Launch Of New Web Destination And Take Advantage Of 10% Off and FREE Domestic Shipping Offers Using Promo Code "10PR0"
Bluefin, the leading North American distributor of toys, collectibles, and hobby merchandise from Japan, Asia and more, announces a new website offering a collection of select products, the majority of which were previously only available to consumers as trade show exclusives.
The news comes ahead of Bluefin's appearance at the 2017 New York Comic Con.
The new ecommerce site is located at shop.bluefinbrands.com.
Currently available are direct purchase opportunities for a specially selected array of products from major Bluefin brands such as Bandai, Storm Collectibles and X-Plus that were originally offered as limited edition items at major national pop culture events such as Anime Expo, San Diego Comic-Con and New York Comic Con.
The site is now offering North American collectors and customers fast, accurate and secure direct access service for ordering as well as easy follow-up on shipping status. Added incentives currently include 10% off and FREE domestic shipping (contiguous U.S.) on all orders using the promo code – "10PR0."
Current notable products available for purchase include:
Bandai Metal Build "Mobile Suit Gundam" Gundam F91 · $225.00
Bandai "Saint Seiya" Saint Cloth Myth EX Gemini Saga Revival Version · $110.00
Bandai Tamashii Nations "Dragon Ball Z" Super Saiyan Goku with Energy Aura (Blue Version), · $70.00
Bandai Hobby HG 1/144 Scale "Build Fighters" Super Fumina A.E.U.G. Maid Version · $22.00
Bandai Hobby RG 1/144 Scale Gundam Exia Trans-Am Clear Version · $30.00
Bandai Hobby MG 1/100 Scale "Char's Counterattack" Sazabi Ver.Ka Mechanical Clear Version · $120.00
Storm Collectibles Hot Ryu "Street Fighter V" 1/12 Scale Action Figure · $70.00
X-Plus 2015 SDCC Exclusives "Dragon Ball Z" Son Goku · $70.00
About Bluefin:
Based in Anaheim, CA, Bluefin built its reputation as a leading distributor of Japanese toys, collectibles, novelty and hobby products. In recent years, Bluefin has grown to include a range of high quality collectible lines from the United States, Hong Kong and Taiwan and established itself as the official North American consumer products and retail development partner for Studio Ghibli. Selling to thousands of specialty, chain and independent stores, Bluefin is an official North American distributor for Bandai Hobby, Bandai Shokugan, and Capcom, and is an official provider of Bandai Tamashii Nations products. Bluefin is the exclusive and official distributor for Blitzway Studios, Flame Toys, Mr. Hobby, SEN-TI-NEL, Storm Collectibles, and X-Plus. Bluefin also represents TruForce Collectibles products worldwide. Additional information is available at: www.bluefincorp.com.
https://www.instagram.com/bluefinbrands/
https://www.facebook.com/BluefinBrands/
https://twitter.com/BluefinBrands
https://www.youtube.com/channel/UClaqOdyh-gLzT27x9p-o0nw
Last Updated: August 31, 2023 - 08:12