Bluefin Previews "Mega Man" for Comic-Con International 2016
By The Editor
July 14, 2016 - 22:14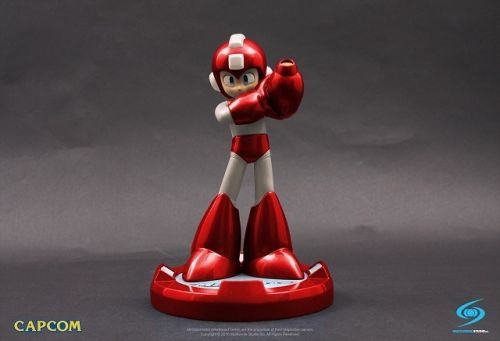 CAPCOM Mega Man Statue Red image
Visit Bluefin at 2016 Comic-Con International Booth #401
BLUEFIN PREVIEWS ULTRA-EXCLUSIVE MEGA MAN COLLECTIBLES FOR 2016 COMIC-CON INTERNATIONAL
Leading Collectibles Distributor To Feature Extremely Limited Edition Convention Exclusives Including TruForce Collectibles X-Boost Figure And New LED Illuminated Blue Bomber Statue And Full-Size Helmet From CAPCOM
Bluefin, the leading North American distributor of toys, collectibles, and hobby merchandise from Japan, Hong Kong and more, returns to San Diego, CA this month with a colorful array of ultra-limited Mega Man products from CAPCOM and TruForce Collectibles to be showcased and also available for exclusive purchase at the 2016 Comic-Con International.
Comic-Con International is one of the nation's largest comic book, science fiction and pop culture events, and will take place July 20th–24th at the San Diego Convention Center, in San Diego, CA. Complete details on Comic-Con are available at: www.comic-con.org.
Bluefin will be located in Booth #401
The following Comic-Con exclusive products were produced in very limited amounts. Each one is unique in its product category and can become the centerpiece of, or accent, any Mega Man fan's collection.
TRUFORCE COLLECTIBLES
Designer Series: X-Boost
MSRP: $90.00
TruForce Collectibles is proud to announce its first San Diego Comic Con Exclusive…X-Boost! This is a one-of-a-kind creation where X's armor has no limit and his true abilities are unleashed. The boost energy from his buster and thrusters increase significantly, however it puts tremendous pressure on his body. Therefore, X-Boost can only maintain this form for 10 seconds." The figure stands at around 6 inches tall, features LED in the buster, die-cast armor, multiple accessories and a stand.
CAPCOM
Wearable Full-Size Mega Man Helmet (Red Version)
MSRP: $170.00; Limited Production: Only 800 Units Made
There have been previous attempts at creating a wearable Mega Man helmet, but it's never been manufactured officially. Until now… Fans really can become Mega Man with this limited edition full-size, wearable Mega Man helmet made of high quality ABS plastic. It features a high polish finish, authentic proportions and details plus working LED lights! A unique clam shell hinge allows the front and back half of the helmet to easily open up to comfortably accommodate the wearer's head inside the soft padded interior for a perfect fit. This is a high quality replica of the Blue Bomber's helmet - perfect for display in home or office, but it also doubles as the ultimate role play accessory! Once these are sold out there will be no more manufactured.
Helmet comes shipped in a decorated box suitable for displaying your helmet when not in use. The Mega Man helmet is not to be used for any other use other than cosplay or display. It is not rated to be a motorcycle helmet or hard hat. Comes with four pieces of adjustable Velcro interior foam for a comfortable fit. Requires two AAA batteries for LED lights.
Mega Man Statue (Red Version)
MSRP: $170.00; Height: Approx. 10 Inches; Limited Production: Only 600 Units Made
The Blue Bomber is faithfully recreated in this fantastic 10" statue featuring a chrome resin finish, a 6" diameter base, an inscription of the Mega Man logo with LED spotlights, plus his Buster and helmet lights up via induction technology when you stand the figure on the base. USB cord and power adapter included or you can just plug the USB cord into a USB power source. Comes in an E-Tank-themed box! Once these are sold out there will be no more manufactured.
Last Updated: August 31, 2023 - 08:12