Bluefin Announces Samurai Spider-Man
By The Editor
May 9, 2016 - 20:33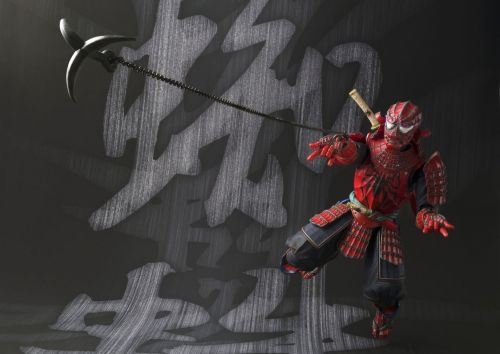 Meisho Manga Movie Realization Spider-Man image
BLUEFIN ANNOUNCES FORTHCOMING RELEASE OF NEW SPIDER-MAN SAMURAI MEISHO MANGA REALIZATION FIGURE
Distinctive Collectible Figure Incorporates Japanese Samurai Aesthetic For New Release Of Legendary Superhero Web Crawler
Bluefin, the leading North American distributor of toys, collectibles, and hobby merchandise from Japan, proudly announces the newest addition to the hit Meisho Realization figure series from Tamashii Nations as the company reimagines famous superheroes starting with the release of the Samurai Spider-Man later this year.
Scheduled to debut to retailers in late-Summer/Fall, the highly detailed, 7-inch figure pays homage to the Samurai aesthetic and artfully takes Spidey back to feudal-era Japan, casting him in distinctive, web-like black and crimson warrior armor. The figure is exquisitely constructed with hybrid materials and features up to 15 points of articulation to create endless posing possibilities. Meisho Manga Realization Spider-Man will carry an MSRP of $91.99 from authorized Bluefin retailers nationwide and also from a variety of leading online outlets. Preorders are available now.
Meisho Manga Realization Samurai Spiderman
Height: Approx. 7 inches; MSRP: $91.99
Leave it to top sculptor and designer Takayuki Takeya to take Spider-Man back to Feudal Japan in full, web-like Samurai warrior armor. True to the feudal spirit, Samurai Spider-Man's ninja kaginawa-style grappling web hook is crafted as chain-like firing mechanism. Like the preceding Meisho Movie Realization products before it, Samurai Spider-Man is crafted with semi-soft materials that allow for superior articulations and dynamic posing. Set includes interchangeable hands (x3), Japanese katana set, and kaginawa web hook set (left and right wrist parts).
Collectors also can enjoy several notable figures from the Tamashii Nations Meisho Movie Realization Star Wars product line – available now from Bluefin – that include the "Ronin" Boba Fett, "Ashigaru" Stormtrooper, and the Samurai General "Taisho" Darth Vader and Samurai General "Daisho" Darth Vader. Each is clad in a unique set of armor and comes with an array of weapons and other accessories. Additional new figures will be announced in coming months. For more information on the Meisho Movie Realization Star Wars figures distributed by Bluefin, please visit: www.bluefincorp.com/catalog/tamashii-nations/meisho-movie-realization.html.
Last Updated: September 6, 2021 - 08:15