Toys / Comics to Toys / DCDirect
Black Fire
By Hervé St-Louis
September 27, 2004 - 10:27
As part of the first wave of contemporary Teen Titans action figures set to match the new series launched last year by DC Comics, DC Direct is releasing Blackfire, Starfire's evil older sister. Of course, this is the first action figure ever of Blackfire and perhaps a risk and a rarity. Although a Starfire's main villain, Blackfire is not the most engaging and memorable character in comics. Thankfully, the figure is hot.
Likeness
The current Blackfire sculpt will probably appear very soon in the comics. It's different than the one designed by George Perez twenty years ago. Gone are most artifacts, such has her collars and metallic sleeves. Instead, BlackFire's suit is a simple black suit covered with a thin metallic exoskeleton. In the cartoon version of Blackfire's suit is closer to the classic look. Of note Blackfire's high cheek bones are apparent, although her large puffy hair are reduced.
Sculpt
The sculpt is great, although Blackfire is a petite woman compared to her sister. In the comics, it wasn't very clear if she shared the same proportion and height of her sister. This figure looks more like a master villainess. Blackfire is brooding and menacing. One posed as a fist, ready to shoot orders, while the other one is wide open, as if she were gonna blast off. The figure's knees and arms are too thin though.
Paint
The paint job on this figure is excellent. Of note, her eye lids have orange eye shadow which I guess is logical if you're an golden woman. Her nails have purple polish too. Tamaran women sure have a good sense of fashion. There's a metallic gloss inside of her cape. The coolest part is Blackfire's hair. Her hair are bright almost like on fire. I wish Starfire's had the same paint treatment.
Scale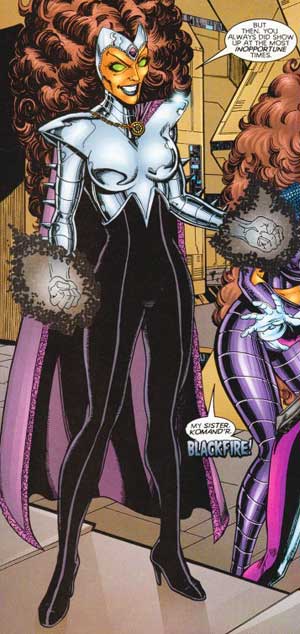 Blackfire is much smaller than her sister, yet she fits perfectly with the contemporary Titans action figures. Taller, than Robin III and Wondergirl II, she is barely shorter than Deathstroke. She's shorter than the JLA Wonder Woman, but a good fit with Cyborg and Raven.
Stability
Although wearing heels, Blackfire is stable enough to stay up unaided on a calm surface. However, her knees are too weak to support her indefinitely. Fortunately she comes with a good base that stabilizes her. However she will not stay put very long because of the cheap plastic DC Direct used. A second peg bar on the base would have helped.
Articulation
Some toy makers say that articulations on female characters of small size should be skipped because their limbs are too brittle. Blackfire would be a good example of this argument. Sporting eleven articulations at the neck, the shoulders, the elbows, the wrists, the hips, and the knees, gives Blackfire more posing opportunities than the DC Direct Starfire. However, her knees weak and already loose.
Plastic
Every time one thinks that DC Direct gets it, they screw up elsewhere. The plastic is too soft and will cause the figure to fall in warm wheather. Already Blackfire falls all on her back, with her foot solidly anchored on the stand. She suffers from the same problem as the Superfriends' Sinestro. Her slim built and cheap plastic will cause her to either lean forward, backward, while deforming the sculpt in due time.
Packaging
DC Direct is experimenting with better packaging that's gentler for the environment but also allows the company to reduce the price of its figures. This is a good thing. Blackfire is encased in a two piece plastic mould. Gone are the metal wires holding a figure in place that had to be removed from the figure's limbs. The new DC Direct packaging is so compact that purchasing and carrying several figures at once is easy.
Cost
DC Direct has reduced the price on these figures. In terms, retailers get some of the savings which ultimately benefit collectors. Other companies should look into reducing the amount of packaging, as often this is where a figure's price increases.
Availability
This figure is widely available. Since DC Direct offers retailers case orders, the price of the figures is cut. Equal numbers of the first wave of Contemporary Teen Titans action figures are available. However, Blackfire is the least desirable figure in the first wave, as the costume she sports has not even been in the comics yet. Perhaps if the storyline featuring her return is great, the figure's popularity will increase.

Read related reviews such as:

Last Updated: August 31, 2023 - 08:12