Cat Eyed Boy: Volume 2
By Leroy Douresseaux
Jun 20, 2008 - 13:17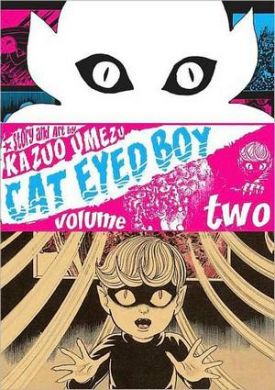 Thanks to barnesandnoble.com for the cover to Cat Eyed Boy 2.
Rated "T+" for "Older Teen"
Cat Eyed Boy, Vol. 2 is the second and final edition in VIZ Media's mini-omnibus (this volume just under 500 pages), English language presentation of the classic, 1967 weird horror manga, Nekome Kozuo, by Kazuo Umezu (The Drifting Classroom).
The title character, Cat Eyed Boy, is a 'tweenish kid of mysterious origins. He is a half-human, half-monster child that resembles a human, but has many features of a cat (eyes, ears, teeth, claws, etc). Cat Eyed Boy may be of goblin extraction, as he appears as an infant in a story about goblins (in Vol. 1's "The Tsunami Summoners").
Hated equally by humans, demons, monsters, etc. (except by cats), Cat Eyed Boy dwells in the shadows of the human world, which just so happens to give him a direct connection to all things supernatural that exist at the edges civilization. He acts like a Trickster figure, alternating helping and hindering both the innocent and the wicked – the inconsistency because he hates humanity for the way it treats him. Wherever this bad boy goes, trouble seems to follow, or as some of Cat Eyed Boy's cover copy declares, "No matter where he goes, terrifying situations involving humans and demons begin to unfurl."
Cat Eyed Boy, Vol. 2 features more tales of revenge and retribution, as well as some just plain weird cautionary tales. First, "The Band of One Hundred Monsters" races to its shocking ending as Cat Eyed Boy takes on… a little girl. The plague of "The Meatball Monster" spreads from a cursed family promising destruction for a small city and perhaps Armageddon for the entire world. Finally, Cat Eyed Boy wrestles with madness, overwhelming grief, carelessly made promises, hellish visions of the future, and obsessive friendship in a suite of sinister tales.
THE LOWDOWN: This second collection of Cat Eyed Boy stories doesn't do anything more than the first collection to attest to the fact that Kazuo Umezu is the master of horror manga. Don't get me wrong, the stories here are a gathering of grotesqueries and absurdities that almost defy imagination. It's simply that I don't think that anything more needs to be said about Umezo's stunning ability to weave so many fantastic tales of the bizarre. When I'm not giggling to relieve my fear, I'm giggling to laugh off the troubling feelings that these stories give me.
In the future when I encounter people so blithely declaring Neil Gaiman's Sandman the greatest comic book ever published, I'll have to wonder if they've ever been to Umezu Land.
POSSIBLE AUDIENCE: Recalling Edgar Allen Poe, EC horror comics, "The Twilight Zone," and H.P. Lovecraft, Cat Eyed Boy is essential horror comics from an essential horror storyteller.
A+
Last Updated: Jun 26, 2018 - 9:28