Cat Eyed Boy: Volume 1
By Leroy Douresseaux
Jun 3, 2008 - 13:22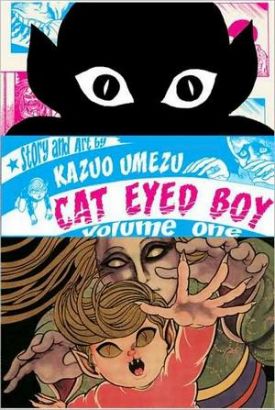 Thanks for barnesandnoble.com for the cover image of Cat Eyed Boy 1
Rated "T+" for "Older Teen"
Like his manga series, The Drifting Classroom, Kazuo Umezu's Cat Eyed Boy is an adventure in reading. Cat Eyed Boy, Vol. 1 is VIZ Media's mini-omnibus (clocking at over 500 pages), English language presentation of Umezu's classic, 1967 weird horror manga, Nekome Kozuo.
The star is, of course, Cat Eyed Boy, a 'tweenish kid of mysterious origins, having many features of a cat (eyes, ears, teeth, claws, etc). Cat Eyed Boy may be of goblin extraction, because he appears as an infant in a story about goblins ("The Tsunami Summoners"). Hated equally by humans, demons, monsters, etc. (except by cats), Cat Eyed Boy dwells in the shadows of the human world, which just so happens to give him a direct connection to all things supernatural that exist at the edges civilization. Wherever this bad boy goes, trouble seems to follow, or as some of Cat Eyed Boy's cover copy declares, "No matter where he goes, terrifying situations involving humans and demons begin to unfurl."
Volume 1 contains five stories (a combination of novellas and full-on graphic novels) of the absurd, weird, and terrifying. In the opening tale, "The Immortal Man," Cat Eyed Boy witnesses a man that cannot die torment a family, as he tries to exact revenge against the father. Another story, "The Ugly Demon," finds a horribly deformed human plotting to steal another man's body so that he can exact revenge against a woman who spurned him when they were teens. The final tale, "The Band of One Hundred Monsters" about a vengeful… band of a hundred monsters (whose offer of membership Cat Eyed Boy spurns) will conclude in Vol. 2.
THE LOWDOWN: Something that I admire and enjoy in Kazuo Umezu's horror fiction is his embrace of that which is absurd, grotesque, and macabre in the supernatural. So much of American horror deals with violence, as if the only way in which the reader can be made fearful is through the threat of bloody hell. That's why so much of American horror cinema revolves around a familiar scenario: You did something to me when we were in high school; now, ten years later, I'm going to kill all of you using pricey cutlery. There's this insistence on logic and logical motives – even when dealing with an illogical or insane person.
There may be an internal logic to how Umezu creates, and there may even be an overarching logic to his narrative. However, he presents the supernatural as outside of nature – the other or something else entirely different from the human world. Our logic, our rules, and our bargaining power don't work. It is not uncommon for Japanese horror or supernatural stories to eschew logic; things often don't make sense. Even when humans think they've discovered the rules of the game or that special incantation to ward off the bad, it won't necessarily work – even when it's so obvious that it should.
Umezu's work is so absurd and often comical. Characters and events elicit laughter. I find myself laughing at some of the ridiculousness, but the fact of the matter is that at the heart of the humor is a terrible unknown. Umezu's quirky, cartoony drawing style belies the dark fantasy and folklore it presents. His brand of weirdness is just plain unsettling. While I'm laughing, a part of me is fearful because Umezu keeps me thinking, over and over again, "What the hell would I do in such a situation?"
In Stephen King's Salem's Lot, even death isn't an escape from the horror of the vampire. In that novel, to apply the rules of our world to the world of supernatural leads to defeat and ultimately to damnation. In Umezu's Cat Eyed Boy, nothing makes sense even if every choice matters and has real world consequences, but the supernatural constantly subverts the natural order. That's chaos and that's horror.
POSSIBLE AUDIENCE: Cat Eyed Boy is a fun character. Readers who like seeing the world through a puckish prankster's eyes will find this rambunctious, often nonchalant lad endearing.
A+
Last Updated: Jun 26, 2018 - 9:28