Toys / Comics to Toys / DCDirect
Adam Strange
By Hervé St-Louis
February 14, 2005 - 10:05
Adam Strange first appeared in Showcase #117, DC Comic's test ground for new character concept that had given birth to the likes of the Silver Age Flash. Adam Strange is a man teleported to the Alpha Centurian planet Rann through the Zeta ray. Gradually Adam became a hero on Rann and married its local Rannian Alanna. Armed with a jet pack and a ray gun, The Justice League offered Adam Strange membership but refused it.
Likeness
This figure strangely looks like a Murphy Anderson character, although he isn't the principal artist of the classic character. A notable omission on the action figure is the white strips running down the thighs of Adam Strange. The Eagle's crest on his helmet is smaller or larger, depending on the artist. In the 1990s mini-series penned by Adam and Andy Kubert, a circle was added to the straps on his torso. There are none on the figure.
Sculpt
Like other Silver Age action figures from DC Direct, Adam Strange's face is a work of art. Most of the sculpt might be the same base body used on the entire JLA Series Two figures, such as Firestorm, and the Atom. Some artists gave Adam Strange red briefs over his red leggings. Keeping with that tradition, the sculptor added thin briefs on the figure. Of course, the parallel lines on the front of his boots are there.
Paint
The paint application is clean although there isn't enough to cover some areas, such as the gloves and the face. The straps on the figure's torso, his belt and his gloves have a gleaming finish. Unfortunately, there isn't one on his boots. There's some bleeding on Adam Strange's helmet.
Scale
Like all the JLA Wave Two action figures, Adam Strange tops most DC Direct action figures. He looks good next to them, but next to the Silver Age Hawkman, or the Silver Age Green Lantern, he looks like a giant. He even tops the modern Superman's action figure.
Stability
Adam Strange is very stable although its torso is top heavy. Its feet are flat and its knees sturdy enough to support the figure's weight. The figure comes with a wide JLA action figure stand for added security.
Articulation
Adam strange has nine articulations at the neck, the shoulders, the elbows, the hips and the knees. There have no special features. Fortunately Adam Strange's jet pack is removable. It's inserted in a peg hole on the figure's back. Adam's pistol fits within a rubber holster with a flap to cover it.
Plastic
DC Direct shipped this wave of figures to a manufacture in China that uses good plastics. We haven't seen such good plastics used for a DC Direct wave in a few since 2003. It's a very good thing. The figure is sturdy and will resist damage.
Props
Adam Strange comes with a pistol/ray gun and a removable jet pack styled like Flash Gordon's. Both are covered with silver paint have a retro styling.
Packaging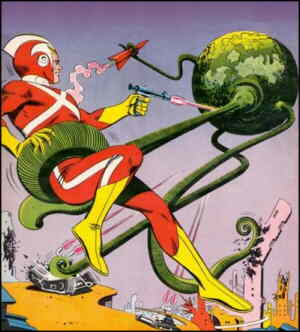 Adam Strange comes on a bubble glued on a card stock with images of the figures form this wave on the back cover. On the front, there's a comic book style illustration of all the figures from the current wave.
Cost
Adam Strange action figures retail for as low as $11 up to $25. It really depends on the discount the retailer got and how much he ordered. Some stores offer all figures from this wave with a discount when purchased as a set. DC Direct does not suggest standard retail prices on figures, leaving it up to stores on which it depends to set their own markup. As a direct to market product, it's done to encourage retail orders.
Availability
Stores can order Adam Strange either through master case, inner cases or individually. In master cases, there are two figures in a set of eight. In inner cases, there is one figure in a set of four. Diamond Comics ordered about 35,000 master cases from DC Direct. That would mean that there are about 8750 Adam Strange action figures. Adding inner cases and individual orders, there could be up to 12,000 figures in all.
This is small number compared with products like Marvel Legends and Mattel toys. Currently, Adam Strange seems like a peg warmer, though it is the only Adam Strange action figure ever made. If DC Direct's history repeats itself, this figure will lay dormant for a year or two and then will disappear completely from retail outlets. This is when most people who wanted one will wake up and begin hunting it on auction sites.
Read related reviews such as:
DC Direct Action Figure Check List
Adam Strange
The Elongated Man
The Atom
Hawkman
Hawkgirl
Silver Age Green Lantern
Silver Age Superman
Silver Age Flash
Last Updated: January 24, 2022 - 11:00