Comics / Spotlight / Progressive Panels
Supergirl #59

By Andy Frisk
December 17, 2010 - 00:36
It's Christmas Eve in Metropolis and Supergirl is frantically searching for Cat Grant, the kidnapped Daily Planet reporter who has been on a crusade against her for some time. Cat was snatched by The Dollmaker, the twisted son of Winslow Schott, The Toyman. Dollmaker plans to make Cat his surrogate mother, and if she doesn't accept he plans to convince her otherwise by murdering all of the children in Metropolis…don't these clowns get it that Metropolis (even when Superman is on walkabout in America) is pretty much the most unsafe place for super villains to operate? Even though Cat hates Supergirl, and has trashed her repeatedly in the pages of The Planet and on TV, they have been forced to work together in order to stop Dollmaker…and as things turn out, Ebenezer Scrooge won't go down in history as the only cold hearted jerk to see the world (and the people in it) in a different light come Christmas morning…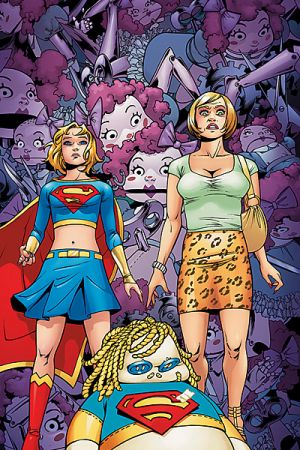 I absolutely love it when a regular run series actually acknowledges the time of year and does a seasonal or holiday themed, or at least set, story. Supergirl #59, ""Day of The Dollmaker Part Two: End of the Line" takes place on Christmas Eve. The story, which is continued from last month, and is the perfect example of a superhero Christmas tale, involves both this series' long running cast and a new villain. It acknowledges the spirit of the season by finally addressing, and in part resolving, the battle of words and innuendo between Supergirl and Daily Planet reporter Cat Grant. Cat's been on a near obsessive anti-Supergirl tirade for some time now, and some of Cat's criticisms of Supergirl are valid, to a point. When Cat is forced to ask for Supergirl's help, since Superman is out of town, she gets more than she bargained for. Cat discovers that maybe she needs to cut Supergirl some slack…after all she does save Cat's life and helps take down The Dollmaker. It is a bitter confrontation though, The Dollmaker's father, The Toyman, killed Cat's son years ago, and Cat has never fully gotten over the grief of her loss. By the end of the battle, Cat's heart is softened towards Supergirl and maybe Cat can eventually find solace amongst new friends if she continues to soften her outlook on life as well. Perhaps, Cat and Kara/Supergirl might find common ground. They both have lost dear family members.
Finally, continuing the holiday theme on a lighter note, Supergirl #59 does something that many might consider trite or hokey, but to me is heartwarming. It gives us a glimpse of Christmas Day in Smallville on the Kent family farm where Clark, Lois, Lana, Kara, Krypto, and Ma Kent have gathered for a day of family fun and great home cooked holiday food. I don't know why, but it's always touching to see your favorite characters gathered together in a spirit of togetherness and love during the holiday season. Call me silly or sentimental…it's something I'd like to see more often during the holiday season in my favorite comic books.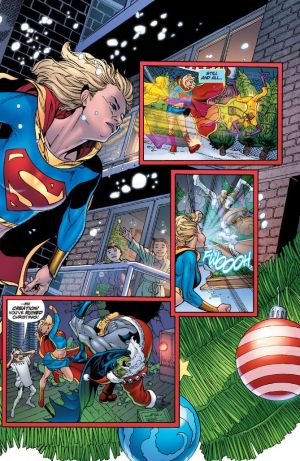 Iconic Supergirl artist Jamal Igle continues his masterful run on the title, and with Amy Reeder penciling the covers to Supergirl, the artwork on this title can't get any better. Igle has a talent for capturing Kara/Supergirl both as a teenage kid and a determined and developing super hero. He masterfully manages to create a wide range of convincing facial expressions. Capturing the many varying mood swings and looks of a moody teenage girl is quite a feat for any artist. His background detail is always impressive, and his take on my favorite time of year is perfectly rendered. Supergirl flying through the snow in Metropolis on Christmas Eve with youngsters waving to her from the balcony of a high rise standing in front of their family Christmas tree, obviously getting ready to head off to bed so Santa can visit, is just a little snippet of the holiday joy Igle brings to the background of this special holiday time story. I know, maybe its hokey to some of you, but I like this type of detail as much as I like the Yuletide.
Supergirl #59 is, yet again, another perfect example of why Supergirl is one of the best superhero titles from DC Comics right now. Sterling Gates continues to make the potentially most one dimensional and boring member of the Superman Family of characters into one of the most interesting and dynamic characters in all of the DCU. Like I've said before, I never thought that a comic book about a teenage girl superhero would be one of the best ongoing series on the market, and one of my favorites. Merry Christmas Mr. Gates and Mr. Igle, best wishes for a long and continued run on Supergirl, and thanks for the great work.
Rating: 10 /10
Last Updated: December 31, 2019 - 20:28