Comics / Comic Reviews / Marvel Comics
Review: Hulk #1 (2017)

By Andy Frisk
January 8, 2017 - 21:33
For years, Jennifer Walters/She-Hulk has been a positive and somewhat lighthearted character. A breath of fresh air in a Marvel Universe full of dark, gloomy, and tortured heroes. She even experienced a revival with the recent Charles Soule and Javier Pulido written/drawn series. Marvel Comics has decided that angst is the way to go though, so She-Hulk is now simply called Hulk.


Jennifer suffered some serious and horrifying events during Civil War II, and as a result has become more like her tortured and angry cousin, Bruce Banner. Writer Mariko Tomaki (
Skim
,
Tomb Raider
) does a good job of introducing this new take on Jennifer to readers in a thoughtful manner. Tomaki symbolizes the changes Jennifer has endured as everything in her apartment/condo is too big for her (she has to remain in her unaltered human form now-like her cousin had to) and devises an interesting, if rather disparaging way for Jennifer to keep herself calm enough to avoid a transformation (a transformation that now feels like "dying" rather than "becoming something powerful"): listening to recipes being read. While Tomaki's execution of the changes to Jennifer are interesting the concept is demoralizing, derogatory, and flies in the face of everything that Jennifer Walters/She-Hulk stood for and represented.
She-Hulk was a unique character in that she was a powerful female who had control over her gamma radiation dysfunction. She was a centered and mentally whole being, unlike what her cousin came to be revealed as over the years (which, to that character's benefit, made
him
unique). She was the opposite of the flighty female stereotype of the damsel in distress. She was also a confident female lawyer who battled in the courtroom for justice powerfully and confidently. Now, she is reduced to struggling to get through her first day back at work and is no longer the strong, confident person she was mentally as she was physically. She-Hulk, a paragon of feminine potential and power, has been reduced to a mentally unstable, out of control, female character who is only calmed down by listening to recipes being read (Signifying that a woman's place is really in the kitchen not the courtroom?). Not exactly what one would expect from the formerly highly progressive Marvel Comics.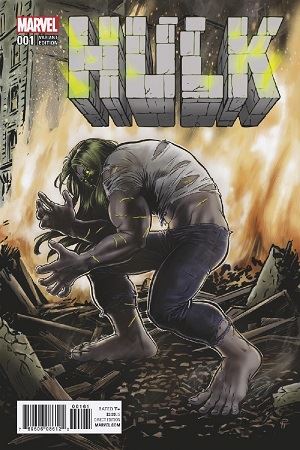 In reflection of Jennifer's new angst ridden status, the atmosphere and artwork of the book is in total opposition to the artwork and atmosphere of the previous series to star Jennifer Walters/She-Hulk. Nico Leon does a good job capturing Jennifer's new pain through her body language and surroundings. Everything is bigger than her (everything around her was molded to work with her hulked out form), but even her law office at the large firm she now works at looms about and around her overwhelmingly. Her powerlessness over her gamma affliction is expertly conveyed through Leon's visual art subliminally. Artistically,
Hulk
#1 is visually perfect. I can't help but cringe though when Leon puts manga like expressions on Jennifer. The submissive, scrunchy eyed kind. This is not the Jennifer Walters who served as Marvel Comics' more interesting counterpart to DC Comics' Wonder Woman over the years.
While
Hulk
#1 is a near flawlessly written and drawn comic book, and will get a high rating from me on those merits alone, the decision to change what was one of the few compelling and inspiring female characters in the Marvel Universe into another one of their, once unique but now overused, angst ridden and tortured heroes, is truly disappointing and, quite honestly, a bad move.
Rating: 9 /10
Last Updated: January 24, 2022 - 11:00