Comics / Comic Reviews / Marvel Comics
Review: The Immortal Hulk #4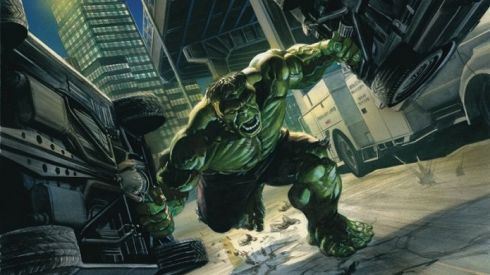 By Andy Frisk
August 1, 2018 - 23:20
Al Ewing is making a character that has pretty much been used in every situation possible and been put through every plot device conceivable new and fresh by taking him back to basics. Bruce Banner is a man on the run, righting wrongs with the help of his alter ego The Hulk. He's being pursued by a reporter named McGee, and is leaving a trail of destruction behind him. Sound familiar? It should. Still, it's all new and all different, but most of all, all brilliant.

Arizona Herald reporter Jacqueline McGee has been pursuing the rumors that Bruce Banner is still alive, along with his alter ego, and to help gain some insight into Bruce's psyche, and possibly track him down, she meets with his old college roommate, Walter Langkowski AKA Sasquatch. Walter sheds new light on Bruce's college days, and his own gamma radiation mishaps, which contributed to his becoming Sasquatch. As Walter and Jacqueline get closer to Bruce and The Hulk, though situations develop that lead to Jacqueline and Bruce meeting, and Walter going through some changes to his relationship with his own alter ego...
Smart, taunt, and, thoughtful storytelling from Ewing makes
The Immortal Hulk
one of, if not the best, Marvel Comics regular run series being published right now. Anger, control, science as profession and hobby, and horror all mesh together thematically to tell a story that gets back to the heart of the character(s), and take them new places. The fact that Ewing drops little homages to the old TV
Incredible Hulk
show of the 70s is just the icing on the cake.
Joe Bennett and Ruy Jose combine to create some beautifully detailed panels and splash pages that emphasize the size of the characters and their storied actions. Piled up automobiles, huge hulking (pardon the pun) monsters and smart cinematic panel layouts and point of view perspectives all combine to create a creepy, if not downright eerie, atmosphere, even when there is nothing more frightening in a panel than two characters talking to each other from, what seems at first, non-threatening positions that foreshadow future terrors.

I love this series. I wish it was published every week instead of every month. Actually, no I don't. The monthly schedule allows Ewing and company to plot, pace, and draw this phenomenal book properly. I can wait. It's a tough wait though.

Rating: 9.5 /10
Last Updated: January 24, 2022 - 11:00