Comics / Comic Reviews / DC Comics
Northlanders #27
By Andy Frisk
May 15, 2010 - 00:04
Gunborg and his followers attempt to humiliate Hilda once again by forcing her to walk barefoot and exposed to the harsh Russian winter in order to retrieve her daughter from the clutches of Gunborg's nephew, Jens. Boris, the settlement's priest and seemingly only honorable man and friend to Hilda, swears he will kill Gunborg…and finally, after six chapters (six great chapters), the long awaited and inevitable final showdown between Boris and Gunborg has arrived.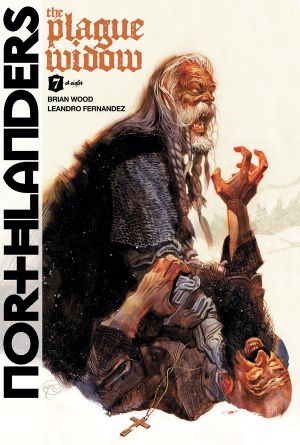 Brian Wood really, really knows how to put together a story that will completely enthrall the reader in its characters. Hilda, Gunborg, and Boris are some of the most powerful characters we've seen yet in Northlanders, and that's saying a great deal. Northlanders has chronicled the lives, travails, and adventures of some great characters such as Sven (from the series' first arc), and Magnus and Brigid (from "The Cross and The Hammer"), but I haven't been nearly as emotionally engaged in a confrontation between two characters in Northlanders like I was during the dual between Boris and Gunborg. Rarely do I feverishly flip through the pages of a monthly comic's newest issue as intently as I did Northlanders #27. When I reached the climactic final page and panel of the duel, I almost felt as if I was right there on the sidelines. This is sequential art storytelling at its absolute best.
Leandro Fernandez's work on this story arc has been phenomenal and his grasp of fight choreography and ability to set the scene emotionally with his visuals and layouts is quite simply masterful. Like the characters who stories we've witnessed over the course of Northlanders thus far, there has been a string of fantastic artists who've worked on the title, but like Hilda, Gunborg, and Boris, Fernadez has been the standout. He brings Wood's vision to life dramatically, concisely, and powerfully.
There's one more chapter yet to come in "The Plague Widow," and undoubtedly it will be a fitting and powerful one, but Northlanders #27 "Splinter and Bleed" just might be the most powerful issue of the entire series thus far.

Rating: 10 /10
Last Updated: January 24, 2022 - 11:00