Comics / Comic Reviews / Marvel Comics
New Warriors #6
By Zak Edwards
December 18, 2007 - 00:28
Despite a very predictable conclusion to its first arc, the new New Warriors series performed fairly well. These first six issues had some major problems, but writer Kevin Grevioux has tried to fix these as he has gone along, and artist Paco Medina has only improved on his pencilling. This series had the potential to be on par with the other great Marvel Comics teenage super-hero series Young Avengers and Runaways, but that potential seems lost now. New Warriors is an entertaining book but of lower quality than some other series out there.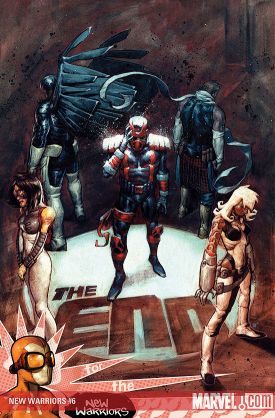 As I said, this issue was not very creative from a plot point-of-view with the story going through a potential break-up that both the audience and author know isn't going to actually take place. Luckily, Grevioux uses this time of the potential break-up to push his characters and also do something very dramatic for this series: actually introduce them. Grevioux made a mistake in assuming that his readers would be familiar with the characters he had decided to use for the New Warriors roster, but most of these characters are kind of obscure or not utilized in Marvel comic books for quite some time. This, coupled with new costumes and abilities, makes New Warriors #6 the first time that the audience is actually introduced to who the team is. I had assumed that they were all de-powered mutants after the House of M series that ran a couple of years ago, but only now were those suspicions confirmed. Grevioux does struggle with dialogue in this issue, with some street slang being used in very poor and unbelievable ways. Some of this dialogue like, "Outta here like a reindeer," is hopefully being used for comedic purposes, but some other phrases are not, making Grevioux look like he doesn't grasp how teenage characters should act and making the dialogue awkward. Also, Ben Ulrich has a line in which he says, "You want truth, that's what I'm giving. Black coffee. No sugar, no cream," which sounds like a missing line from a corny seventies police drama, not a modern day comic book. Despite these problems, Grevioux manages to keep this issue from complete disaster with some solid character interactions within the New Warriors and also some interesting revelations made through the police subplot. These two elements draw on what made this series interesting, which was the effects of both the Civil War event earlier this year and its subsequent effects on the American people, and the de-powering of the mutant populace because of "M-Day" from the House of M event from a couple of years ago. So there is hope for this series yet, despite its problems with both characters and pacing. I originally predicted that this series may actually become equivalent to the other Marvel Comics teenage series Young Avengers and Runaways, but it is not of that quality and may never get there. The series is still enjoyable, but one may need to search for the gems in the story.
Paco Medina originally was bothering me with his incredibly disproportionate depictions of women, and while it is still there, it is definitely toned down. His conveyance of emotion is not as effective this issue either, adding to some problems already in the script. Paco Medina's pencils have been improving with the series but encountered a few problems this issue while still remaining fairly good. The character of Phaser, who just had his sister killed, has his goggles on for the entire issue, hiding his eyes completely. This makes him appear bug-eyed the entire time and one cannot see him grieving, rather, he is simply frowning. The male cop has the same expression for the entire issue as well, which may be more appropriate as he is a hard type of character, but it is not effective. But other than these discrepancies, Medina's art is well done and fits many aspects of the story very well. His characters are animated but not cartoon looking, striking an appropriate balance.
6.5/10 Problematic writing and art that has problems conveying its purpose, but still has many redeeming qualities.
Feel free to e-mail me your opinions and thoughts at zak@comicbookbin.com.
Last Updated: May 19, 2020 - 12:25