Comics / Comic Reviews / Marvel Comics
New Warriors #3
By Zak Edwards
August 7, 2007 - 02:03
New Warriors #3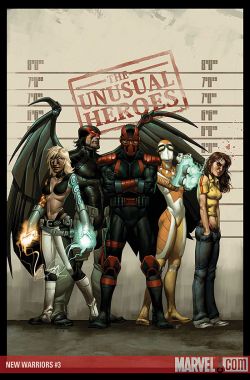 We still don't know who most of these people are!
The New Warriors had such a strong start. I honestly felt like this series could rank up with the other teen super-hero teams that are doing so well in the Marvel Universe. Runaways, Young Avengers, and New X-Men have been very strong comics (barring Whedon's Runaways), and New Warriors seemed poised to join the club. That was issue one, now we're at issue three. While the comic is managing to hover just above par, the problems from last issue plague this one as well.
Writer Kevin Grevioux seems to be enjoying showing us the New Warriors but giving us very little face time with them. While problems and questions continue to be introduced, almost of the original ones are still left unanswered. Important ones like who are these new heroes? Grevioux gives us a brief introduction into some of them this issue, but he leaves the audience with barely anything more than super powers. The focus away from Sophia, despite my personal love for the character, was probably a good move, seeing as her 'will she or won't she' scenario about joining the team would have gotten if it continued for a third issue. Instead, Grevioux mostly concerns us with the investigation of two cops trying to figure out whether or not Night Thrasher is alive or dead. With all clues pointing to yes and then Night Thrasher actually revealing himself to the cops by the end, the whole issue feels unimportant. As a new reader to the franchise, Grevioux has failed to make Night Thrasher a character I should worry about. Of course, this Night Thrasher could not be Dwayne Taylor, but it still feels like Grevioux could have spent less time investigating and more time showing us the new New Warriors. The time spent on the New Warriors reveals a couple of things; that they are incompetent, and that Jubilee is a brainwashed second-in-command. So maybe it is for the best that we don't see them in action. The Tony Stark part of the story is funny and juvenile, but it is a group of teenagers we are talking about, so it actually works quite well. Questions on how the group is funded are raised and partially answered, adding a bit of depth. Unfortunately, the whole series is steering away from the propaganda, media reaction, and mutants coping with M-Day, which was some of the best parts of the story. Besides that, the Wolverine appearance complete with a note on the bottom of a panel that reads "For the whole story, see Wolverine: Origins #10" felt completely unnecessary. I thought Marvel did away with the those, personally. That whole scene really disappointed me as a reader mostly because it felt like it was in there only sell more Wolverine comics. Despite all of the problems, the series continues to entertain, but not blow away. Jubilee and Sophia continue to interact very well, seeming to play off of each others viewpoints. Sophia is helping Jubilee become a better leader, despite what she's actually trying to do, and Jubilee is showing Sophia the pros and cons of a very important decision in her life. Hopefully the focus will shift back to ex-mutants, fascist S.H.I.E.L.D and news reports, making go back to being a great read, rather than a good one.
Paco Medina continues to handle the art very well. His teenage characters continue to drawn with energy and vigour. I enjoy his animated expressions and ability to draw almost anything, as long as the subject is under twenty. Medina has also given the whole issue a breast reduction which deals with one of my major complaints of the last two issues. His art style fits the series perfectly.
7/10 Has problems and pace is slow, but still an entertaining title.
Last Updated: May 19, 2020 - 12:25