Comics / Comic Reviews / More Comics
Hector Plasm: Totentanz
By Andy Frisk
October 18, 2009 - 00:47
Benandanti: "The Benandanti were members of an agrarian cult in Northern Italy…who were basically anti-witches and practitioners of white magic." They "were ascribed an unusual destiny" since they were "born with a caul, a piece of amniotic sac on their head" which granted them certain supernatural powers such as the ability to commune with spirits, amongst other supernatural abilities. (Quoted and paraphrased from: www.fabrisia.com/benadanti.htm and www.deliriumsrealm.com/delirium/articleview.asp?Post=409)
Totentanz: German for "dance of the dead"
So, Hector Plasm, created by Benito Cereno and Nate Bellegarde, is a sort of paranormal investigator/exorcist/ghostbuster, who's technically a Benandanti with certain supernatural superpowers who travels the globe keeping peace between the living and the dead. He embarks upon these journeys and adventures alone except for the occasional accompaniment of The Sinner and The Saint, both of which serve the role of the "angel and devil on your shoulder." The sinner is a bebopping, beret wearing beatnik, and The Saint is a ten gallon hat wearing cowboy. Hector carries a magical Chinese sword and can create ectoplasmic constructs from his bile to aid him in his battles with the witches, demons, and ghosts he encounters that he can't simply sit down and converse with peacefully before convincing them to move on.
Hector Plasm, who has appeared as a backup protagonist in Image's Invincible, and in his own special Hector Plasm: De Mortuis, stars in his very own Halloween special, or as Cereno and Bellengarde call the holiday, Hectorween. Hector Plasm: Totentanz is a collection of a varying array of short story strips starring Hector, which have appeared online over the past few years, and one original story. The collected web strips range from Hector's life story, to this point, to a recipe for Pan de Muerto, recited by Hector while he battles a pig demon, to a read-along-to-music tale, titled "Hector Contre La Danse Macabre." The song "Danse Macabre," by Camille Saint-Saens, if played while "you slow your reading (of the comic strip) to take about an average of 30 seconds a page, you should, with some luck and synchronicity, see some actions line up with the bits of the musical composition they were supposed to accompany…" according to Cereno. It's an interesting exercise that Cereno and Bellengarde put some time into, and it's fun to follow along. Well, maybe not as fun as Pink Floyd's Dark Side of The Moon/Wizard of Oz duel watch and listen, but you get the point.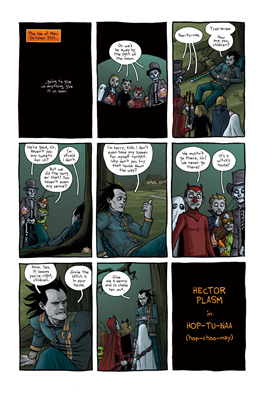 It's the thought, or lack thereof, that goes into some of Hector's Halloween tales that at once make
Hector Plasm: Totentanz
both interesting and a bit of a waste. Some tales, like "Hop-Tu-Naa," which is set on The Isle of Man and takes place on October 31st, Halloween (obviously) for most westerners, but Hop-Tu-Naa to residents of The Isle, are interesting peaks into unique cultures that shed some light on the unique traditions of some of the progenitors of the Halloween holiday. Other tales (or strips) such as "The Carving" and "Hector Plasm's Costume Tips" are really just filler, even if the art is good.
The art by Bellegarde, with guest artists Ed Tatum, Jess Fink, John Campbell, Dean Trippe, and Scott Wegener ranges from highly detailed and accomplished to parodic stick figure drawings ("Hector Plasm in The City") to Bruce Timm-like cartoon style drawings ("Hector Contre La Danse Macabre"). The different styles and approaches make for interesting changes of pace from humorous to gothic to kinetic. In case you haven't noticed, there's a great deal of "this to that" transitions in Hector Plasm: Totentanz, and while it creates a bit of an inconsistency to Hector's character, it does create a variety of approaches that are fun to read through.
Overall, this collection of Halloween tales starring the only known and active Benandanti in all of comics (at least to this reviewer's humble knowledge) serves its purpose by bringing the reader some fun escapism perfectly themed for late October reading. Hector Plasm: Totentanz is the perfect grab bag of Halloween comic strip treats for the comic book reader.
Rating: 7 /10
Last Updated: January 24, 2022 - 11:00